€600k outdoor dining venue officially opens in Killarney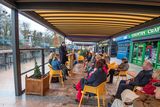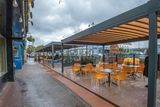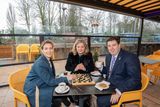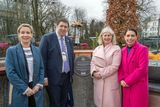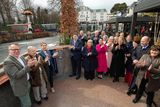 The new outdoor dining venue in Killarney will be an asset to the town for the forthcoming tourist season according to Cathaoirleach of Killarney Municipal District, Cllr Niall Kelleher, who officially opened the facility this week.
The new space has been available for use since late last year but made its official bow on Wednesday, two years after Fáilte Ireland's Outdoor Dining Enhancement Scheme was first announced and opened for applications in March 2021.
The plan sought to develop more outdoor-dining areas, partially in response to the COVID pandemic.
Fáilte Ireland allocated €604,505 to construct the Killarney dining area. It and a similar facility in Dingle were included in a €9 million national funding programme announced in September 2021.
The Killarney project was put out to public consultation in July 2021, and in September 2021, councillors in the Killarney Municipal District approved the plans to develop the outdoor dining area at Kenmare Place.
Construction was undertaken by Daniel Canty Construction and began in May 2022. It was completed and ready for use in October 2022. Fifty per cent of the seating is designated for private use by businesses in the vicinity – though they must acquire a licence to do so – and the remainder is for public use.
Issues have arisen over the operation of the facility, with a lengthy debate by councillors at a recent Municipal meeting over who is responsible for putting away the furniture when the facility opens and closes. It is operational from 8.30am to 10.30pm daily. Councillors from outside the district also criticised the decision to prioritise Killarney and Dingle for funding over other areas when Fáilte Ireland announced the scheme in 2021.
"This is a really wonderful addition to Killarney's tourism infrastructure and will prove a great asset throughout the year and particularly during the forthcoming tourist season," said Cllr Kelleher.
"One of the effects of the recent pandemic was the need to utilise and maximise outdoor-dining options, and this infrastructure shows what can be achieved in an imaginative way. It will greatly enhance Killarney's reputation as a destination for top-quality tourism experiences."
Head of Wild Atlantic Way at Fáilte Ireland Miriam Kennedy said the facility has been well received.
"Outdoor dining is now a permanent feature of our tourism and hospitality offering post-COVID, and facilities like these allow visitors to access outdoor-dining options for longer periods of the year, supporting local businesses to sustainably develop and adding to the atmosphere in the town." she said.
Cllr Kelleher thanked local businesses for their support, as well as the local Jarvey Association for their help during the project's delivery. Jarveys had raised concerns about the project when construction began.