Kerry IWA members relish new garden space at Listowel base
Chadwicks builders' suppliers sponsor material to create new garden space in the Irish Wheelchair Association's Listowel centre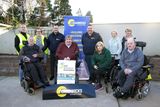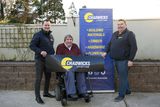 MEMBERS of the Irish Wheelchair Association's Listowel branch are set for a bright summer – if the weather plays its part – thanks to a brand-new garden space at their HQ in the town.
It was completed recently with the help of sponsorship from Chadwicks Group, a leading builders' merchants chain, in an exciting revamp all are already enjoying no end.
Chadwicks said it was delighted to help the Listowel branch to create the garden space, in a project that will do wonders, like all gardens, for people's mental health, physical health and much more besides.
It's the latest development in the life of the IWA's Listowel and Kerry branch.
The organisation operates 58 full and part-time centres nationwide offering everything from training and social activities to therapies for members and more.
It also provides 1.3 million hours of assisted living services to more than 2,000 adults and children.
In Listowel alone, the IWA delivers services four days a week in support of up to 20 members from the town and surrounds.
It's a vital service, bringing members into the centre for activities, therapies and much-needed social interaciton.
Now, thanks to the design of the new garden space, members can easily take part in the whole business of nurturing plant life, in the raised stonework beds along the periphery of the space.
Chadwicks helped the group by providing everything from gravel to cement, cladding and outdoor garden furniture.
Chadwicks Tralee Branch Manager Jerry Lynch said the company was delighted to partner with the IWA in the project.
He said it was wonderful to have been involved in something so rewarding for the members: "We are delighted to support the Irish Wheelchair Association centre in Listowel on this project. IWA provides vital services in Listowel and the surrounding area and it is a privilege to be involved in improving the ourdoor space which is an essential area for members of our community.
"We are delighted that our work can have a positive impact on the staff and service users alike."