Mass on Innisfallen Island as Gaelscoil principal Proinsias sails off to retirement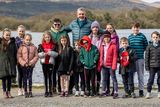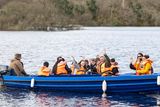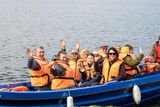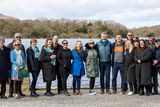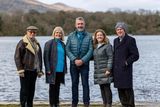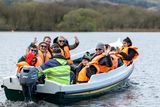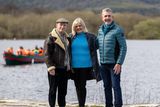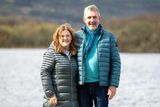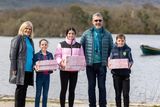 Gaelscoil Faithleann threw its doors open in 1989, and among the few constants throughout that time has been its principal: Proinsias Mac Curtain.
As you can well imagine, Proinsias has overseen a lot in his 33-and-a-half years at the helm, including its move to its current site in 1999, but all good things come to an end, and next month, he will retire from the position.
"I've enjoyed every moment of it," he told The Kerryman.
Over the decades, he has been held in high regard, and the school's parents' council, Cáirde na Scoile, arranged their special, early goodbye on Saturday as a group of about 150 people – primarily parents and children – travelled with Proinsias and his wife, Karen, for a Mass to mark the occasion.
But it was a Mass with a difference; all involved took a boat from Ross Castle to Innisfallen, where the celebration took place.
And while the parents' council is grateful to Proinsias, the feeling is mutual.
"From my own point of view, we have a very positive parents' council at the school," said Proinsias. "They are very proactive."
The County Limerick native has long settled in Kerry, joking that he's an honorary member now after being given a work visa, and he has made some great memories during his time working in Killarney, with thanks in no small part to the people around him in the school community.
"I've been privileged to be here [Gaelscoil Faithleann] from the beginning, and I'm very lucky to have been principal here," he said. "I will have many, many fond memories.
"I'd like to mention the people I've worked with, teaching staff and all staff at the school have been fantastic down through the years. One person doesn't row a boat, it's everyone who's with you: teachers, other staff, parents, board of management, and the children themselves."
On behalf of Cáirde na Scoile, Mary Carroll explained that Innisfallen was an apt venue as the school itself takes its name from the location. She described the day as "a wonderful event" befitting the occasion.
"He has spent nearly 34 years as principal, and we wanted to give him a good send-off," said Mary. "The parents here will miss him, and we are very grateful to him."
Mary also thanked everyone who made the Innisfallen event – a significant logistical challenge, not least in terms of the level of equipment that had to be transported to the island – possible.