Killorglin takes top prize for Kerry at Digital Awards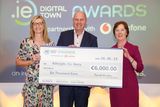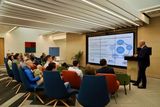 A Killorglin based project has been recognised for its efforts and commitment to digital innovation at this year's .IE Digital Town Awards.
Killorglin's RDI Hub Digital Business was the overall winner in the Digital Business category, sponsored by Vodafone.
The initiative was developed to facilitate the creation of new products, services and jobs in the South West region. It has transformed Kerry into a globally connected digital technology innovation, enterprise and skillset hotspot boosting economic growth.
It runs numerous programmes including 'hackathons' which have resulted in Augmented Reality Apps for Kerry tourism; a STEM passport programme whose graduates gain a 50 Leaving Cert bonus; and ongoing supports for scaling companies to attract investment and create jobs.
.IE, the national registry for .ie domain names, announced the winning entries for the .IE Digital Town Awards 2023 at a Gala event held at the Hodson Bay Hotel, Athlone today, Wednesday May 24.
The awards were created by .IE in 2021, as part of a broader four-year €1 million investment in the .IE Digital Town Programme encouraging the uptake and use of internet and digital technologies for businesses, citizens and communities.
In total, 22 town and community digital projects were recognised at this year's .IE Digital Town Awards 2023 with Killorglin taking honours for Kerry. The Fexco backed RDI project is a huge boost to the county.
Minister of State at the Department of Enterprise, Trade and Employment, Neale Richmond congratulated the winners.
"I want to congratulate all the winners of this year's .IE Digital Town Awards. The 22 groups honoured at this year's awards are great examples of how by embracing digitalisation, even small groups can make a big difference to their local communities, friends and neighbours. Congratulations again to all the winners and thank you to every group that entered this year's awards."