New York St Patrick's Parade spectacular as Listowel Fire Chief leads Roses along Fifth Avenue
Chief Fire Officer in Listowel Paul O'Sullivan and the Roses fly the Kerry and Irish flags with pride at the festivities in the Big Apple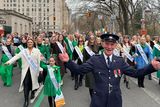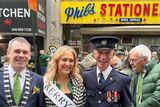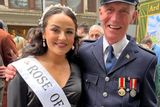 LIFE was a bed of Roses on the streets of New York for Listowel Fire Chief Paul O'Sullivan as he took part in the St Patrick's Day parade in the Big Apple.
It's one of the great events of the year in NY City and fair play to Paul for flying the Listowel and Kerry flag with pride once more, keeping up our end of the great Irish-American family either side of the pond.
New York loves its fire fighters for great reason, and Paul was among his own as he cut quite the dash in dress uniform leading the Roses along Fifth Avenue as part of the festivities.
Alongside him was Listowel's very own Édaein O'Connell, the Kerry Rose, also flying the flag with pride as was Kerry Mayor John Francis Flynn.