Kerry poet's debut collection getting under readers' skins
Beneath My Skin by Ballybunion native and Beaufort resident Bernadette Ní Riada launched to acclaim and laden with the love of nature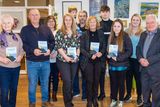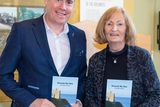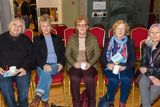 FROM the shores of the Atlantic to the foothills of the Reeks, the geographical arc of Bernadette Ní Riada's life has afforded her a wealth of natural-world inspiration for her beloved art form – poetry.
The Ballybunion native can now be officially referred to as 'poet' having launched her debut collection, Beneath My Skin, to huge acclaim at the Kerry Writers' Museum in Listowel last week.
Radio Kerry presenter Joe McGill did the honours, a close colleague of Bernadette who regularly features on his Saturday Supplement programme discussing poetry in general and sometimes reading from her verse.
Bernadette's fans can now finally hold her poetry in their hands in the striking new edition proudly emblazoned with an image of Ballybunion Castle on its cover.
"I was just blown away by the response to the book and the reception from everybody at the launch," Bernadette told The Kerryman.
"I was delighted Joe McGill from Radio Kerry launched this, my first publication, as I really have to give credit to him for being such a strong promoter of the arts and poetry on his programme.
"It is so important that we maintain a space for poetry in the modern world. We're all so busy in our lives these days, which is all the more reason to treasure poetry and make time for it. All the elements of human nature are there in the work of the great poets," Bernadette explained.
The natural world is one of her great muses. "I was born and reared in Kilconly north of Ballybunion. I lived in Dublin for a number of years but I came back to Kerry and now I'm living in Beaufort which, like Ballybunion, is rich in natural inspiration. As a proud Kerry woman I'm always promoting my county and can see exactly how attractive it is to tourists.
"Everywhere you go here the scenery is just breathtaking. And living in the country, while not for everyone I suppose, definitely suits me. I love the pace and the way of life, the green fields dotted with sheep, the mountains, the sounds of the birds while walking...it just goes deep into my soul," Bernadette said.
And it shines forth from her pen. Beneath My Skin is available in bookshops now including Woulfe's Bookshop in Listowel, the Kerry Writers' Museum, The Crystal Cave in Killorglin, Carson's Post Office, Beaufort and First Chapter in Tralee.