Zoo to probe how child got into rhino enclosure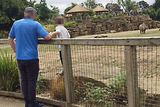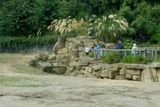 Dublin Zoo have launched an investigation into how a little boy came to be inside the rhino enclosure.
It's believed the young boy was lifted over the fence into the rhinoceros enclosure, with an adult holding his hand.
It's understood that the incident took place on Friday afternoon.
A number of pictures of the event were taken and shared on social media over the weekend. Rhinos are known for their unpredictable nature. A male rhino weighs around 2.3 tonnes and can charge at speeds of up to 40kph.
Gillian Bird, of the Dublin Society for the Prevention of Cruelty to Animals, said the organisation "totally and utterly condemned" the action taken by the zoo visitors.
"This is horrendous, from the point of view of what is being done to the child, but also from an animal welfare point of view," she told the Herald.
Unpredictable
"Generally, it's just shocking that an adult could put a child in harm's way like this," she added.
Ms Bird added that rhinos can be unpredictable animals, but stressed that other creatures in captivity, such as zebras, can also be dangerous to curious visitors.
But she also praised Dublin Zoo, adding that keepers "care greatly for each animal".
"Even if the animal approaches the child out of curiosity, it could end up hurting a person or stamping on them unintentionally."
A spokesperson for Dublin Zoo said an investigation had been launched.
"The matter is being taken care of internally by Dublin Zoo," she said.
"It's completely against Dublin Zoo's health and safety rules but it is being looked into at the moment."