Zoo to escape fine after 'chilled out' tapir attacked girl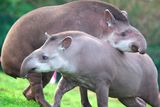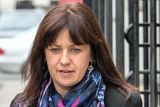 DUBLIN Zoo has pleaded guilty to breaching health and safety regulations after a two-year-old girl was mauled by a "chilled out" Brazilian tapir that suddenly went on the attack.
The toddler was set on by the 225kg exotic animal named Rio during a supervised "close encounter" experience in the tapir enclosure on August 8 last year.
The Zoological Society of Ireland, which was prosecuted by the Health and Safety Authority (HSA), admitted a breakdown in communication was to blame for a 2006 risk assessment not being heeded. This stated that the public should only be allowed to get close to harmless animals like stick-insects.
The little girl, who was picked up in the tapir's mouth, suffered stomach and arm injuries and had to receive treatment from surgeons at Temple Street Children's Hospital, while her mother also required medical attention.
Dublin District Court heard yesterday that the normally mild-mannered female tapir had been placid but reacted aggressively when the child "let out a screech".
Humiliated
Judge John O'Neill heard that there had never been an incident like this in the zoo's 180-year history and it was "humiliated", apologetic and has brought in new safety measures.
Judge O'Neill ruled that if they donated €2,500 to the Jack and Jill Foundation and €2,500 to Laura Lynn Children's Hospice he would apply the Probation Offenders Act, sparing the zoo a fine and criminal record. The case was adjourned for eight weeks.
HSA inspector Mairead Wall told prosecution counsel Antonia Boyle that zookeeper Susan O'Brien had done a favour for a friend by letting a family with four young children have a close encounter with an animal.
During the close encounter, the animal, which had given birth to a calf a month beforehand, had initially been docile.
The visits no longer happen and safety measures, including a higher fence in relation to the tapir enclosure, have been implemented.
hnews@herald.ie