'You have to be dead to be iconic', says Mrs Brown's Rory over record attempt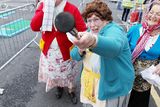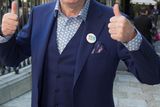 Mrs Brown's Boys star Rory Cowan agrees the title character isn't iconic enough for a north Dublin event to be included in the Guinness Book of Records
More than 65 people turned up at the Finglas Festival with their rollers in and their cardigans on in an attempt to set a new world record for the most Mrs Brown lookalikes in one place.
However, Guinness World Records officials rejected their attempt saying Mrs Brown wasn't "iconic" enough.
Rory says he agrees with them, though he said the comedian who portrays the woman herself - Brendan O'Carroll - was "over the moon" about the event.
READ MORE:
"You have to be dead to be iconic and there's plenty of life left in Mrs Brown yet," Cowan told the Herald.
"It was all a bit of fun but I just think you have to look over a whole life before somebody can become an icon."
Petition
Organisers are now trying to start a petition in the hope that the Guinness World Record organisation will reconsider their ruling.
Rory says he understands the decision, but says the whole event was "a great laugh" overall.
"If you have a load of people dressed as nuns and you go for the world record of that, you have to all look like nuns," Rory explained.
"But in this case, you had men who put any old wig on, they had full beards and a cardigan.
READ MORE:
"And if you were to look at that and not know what it was, you wouldn't say 'that's Mrs Brown', so I get it.
"For a world record attempt it has to be instantly recognisable," he added.
While festival organisers didn't set any new records, creator Brendan was chuffed at their efforts, Rory said.
Delighted
"It was just a terrific laugh and they really got into it at the festival," he said.
"Brendan was delighted they were doing it with him coming from Finglas as well."
The cast of the famous show have just finished a six-night run at the O2 in London - which Rory said was "amazing" - and will be back on tour from September.