Would having another woman in the delivery room be of more use than a man who can't cope?
Is dad's presence at birth more a hindrance than a help?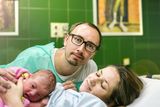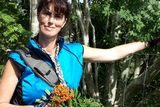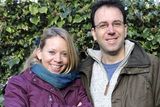 There was a time when fathers-to-be paced the corridors outside the delivery room waiting for news of their new offspring. Some new dads went even further, preferring to seek solace from other men in the time-honoured fashion - over a pint in the pub.
Times have changed dramatically and the majority of men now take an active role in the birth of their child, with some enthusiastic souls securing a bird's eye view and even recording the event for posterity. But much as this change-of-heart is welcomed, some researchers are claiming that the father's presence is not only unnecessary, but can be a hindrance.
To come to this conclusion, researchers from three colleges in the UK experimented by giving 39 women a pinprick laser pulse while their partner stood by and again while he was out of the room.
On both occasions the electrical activity in their brain was monitored and it was discovered that the pain levels were not reduced by the presence of the partner and in many cases it was actually increased.
We spoke to mothers and experts to see whether or not they believed fathers should be present at the birth of their children.
Margaret Hanahoe is the assistant director of midwifery and nursing at the National Maternity Hospital. She believes the UK study was not comparable with giving birth but the issue of men in the labour ward has been a hot topic for years.
"I read the study released from Kings College London and am not sure if it's helpful in relation to partners attending births in the labour ward.
"Firstly it was a very small study and secondly a laser pin-prick a far cry from labour pain.
"It suggested that a lack of emotional intimacy made pain worse but from observation over the years I don't think men in the labour ward cause women more pain.
"Around one in 20 men don't accompany their partners in labour. Some feel it is 'not their place' or they would be of no help. But some can be a hindrance if they faint or feel unwell.
"I think each couple should have an honest discussion and if the partner is not keen to be at the birth and the woman is ok with that, then it may be better to prepare for labour with another birth partner.
"This discussion about having men in labour ward has been ongoing for years. In 2009 Michel Odent said men put the section rate up as it's very difficult for anyone to see a loved-one in pain.
"Sometimes a partner who is unprepared for the process of labour tries to 'help' his partner by asking to intervene. Odent thinks that a woman in labour is best supported by another woman and the term midwife 'with woman' is just that.
"The role of the birth partner is to act as an advocate for the woman, to stay with her, encourage her through labour and praise the great work she is doing.
"Most labour wards try to have a midwife with all women in labour and so they essentially become the birth partner."
Marloes Wesselingh lives with her partner Frank Velthuizen in Bray, Co Wicklow. Originally from The Netherlands, the couple are expecting their first baby in April and while they have discussed the issue of Frank being present at the birth, Marloes says she doesn't mind what he decides to do on the day.
"It shouldn't be an unwritten 'rule' for fathers to be at the birth of their child. It must be a very special experience but some men don't want to or simply can't have a very active role.
"Some fathers might not be happy in medical surroundings and in that case their presence can have a counterproductive impact.
"We have discussed this and Frank said he would really like to be there to support me, but he can't predict how he will feel when it gets more 'medical'.
"He also doesn't necessarily want to be the one who cuts the cord. So we decided that he will be there, but he shouldn't feel obliged to stay the whole time if he is not feeling comfortable.
"I think it's important to exchange ideas and feelings beforehand, so we both know what the other wants. But of course you never know how the birth will go and what will happen with your feelings at the moment itself.
"I noticed that in many non-western cultures it is unthinkable that men would be present during a birth. We lived in Sudan and the women were shocked to hear that men in The Netherlands would see their wife while she was giving birth. For them it was much more valuable to have a female relative around."
Carmel O'Dwyer from Greystones, Co Wicklow runs pregnancy yoga classes through her business www.yogamums.ie. She is also a mother-of-three and says it's great that fathers are welcomed to the delivery suite - but she had a difference experience during each labour and says it depends entirely on the situation.
"Women need someone to give her emotional and physical support during labour and the father is probably the best person to do it.
"However, some men are freaked out by the idea and I think there is too much pressure from modern western society for them to be up close and personal during the birth. If the father does not want to be hands-on then he shouldn't be forced to do so as his presence could actually impede the progress of the birth.
"My own story is interesting because my fella wasn't much support at all in the beginning and now here I am teaching dads how to support their women during birth.
"When we had our first child 23 years ago we hadn't a clue. Eamonn just sat in the corner feeling like many dads do in the hospital - 'useless' and 'in the way'. It was very difficult for him because I was in a lot of pain and all he could do was sit there and watch me.
"My second birth was a lot easier as I'd read a few books and learned a few things. I stayed at home as long as possible and did a million rounds of the kitchen table, walking and breathing through the contractions. Somehow I was able to time it perfectly and we got to hospital just an hour before my son was born.
"When I announced that I wanted a home birth with our third child, Eamonn went into shock. He said he'd have nothing to do with it, that he'd be miles away in Donegal.
"I was devastated. Home birth was uncommon in Ireland 18 years ago and all my friends thought I was mad, now my husband felt the same - I felt quite alone. But two days later he said he knew how much I wanted a home birth and would support me as best he could. We talked it through and agreed to have another support person there as well as himself and the midwife.
"My two boys went to stay with their granddad. So there was just myself, my husband, my mother-in-law and the midwife in the house. Home birth is very different as you have a midwife all to yourself - so Eamonn could stay in the periphery and dip in and out as he pleased. But when it came to the actual birth everyone came into the room and Eamonn was right there beside me to greet our baby girl.
"It was a magical moment and a few days later he was down the pub telling all the lads what an amazing experience it was.
"My advice would be for couples to talk about it. Women need to be understanding as men are not automatically programmed to be around birth - some do it fantastically with little or no preparation while others find it difficult.
"A little research goes a long way though, giving them the knowledge and skills they need."
Niamh Healy of Cuidiu agrees and says the most important role of the birth partner is to support to the woman in labour. Whether or not this is the baby's dad is up to each couple individually but she doesn't believe the UK study can be used as a comparison.
"The study looked at women's degree of closeness to their partner and used an artificially induced pain in a non-labour setting. The pain in childbirth is natural and many consider it to be a positive sort of sensation as it has such a great goal and reward at the end so I'm not sure if this study can be directly extrapolated out to a labour setting.
"Mothers need good emotional support to cope well in labour. If a father is anxious or tense he will transmit that to her and fear or tension can increase the perception of pain. It can also reduce the levels of oxytocin, the hormone that drives labour, so can be counter-productive.
"If he is well-informed and feels able to ask questions and advocate for his partner, as well as doing practical things like helping her with positions and massaging her, he will be a great asset to her and will relish the experience himself."
For more advice see: www.cuidiu.ie; www.antenataldublin.ie; www.bump2babe.ie; www.mybumpmybirthmybaby.ie