Women carve up kitchen careers
An increase in the number of female chefs means life in the professional kitchen is a lot more civilised, writes Aoife Carrigy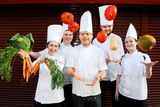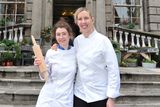 'I like working with women," says Kieran Glennon, head chef of Restaurant Patrick Guilbaud, Ireland's only restaurant to boast two Michelin stars.
"They have a civilising influence on the rest of the kitchen."
It was certainly a civilised affair at last Sunday's black tie event in Dublin's Shelbourne Hotel, where the winner of the 28th Euro-toques Young Chef of the Year Awards was announced at a dinner cooked by the finalists and their head chefs who had acted as mentors throughout the competitive process.
As well as the glitzy frocks sparkling amid the black jackets and bow ties of the 200 industry guests, women were notably centre stage throughout the night.
Restaurateur Maire Flynn of The Tannery and food writer and entrepreneur Domini Kemp played a glamorous and hilarious double act as comperes for the night.
Of this year's five finalists, two were young women (an unusually high number compared to previous years). One of those - 22-year-old Ruth Lappin who is chef de partie at Restaurant Patrick Guilbaud - went on to become crowned this year's Euro-toques Young Chef of the Year.
And this year's distinguished guest judge was Clare Smyth MBE, an Antrim-born lass who grew up on a farm, left school at 16 and went on in 2007 to become the first female head chef in the UK to secure three Michelin stars. She has held on to them ever since, at the flagship Restaurant Gordon Ramsay where she is chef patron today.
Clare agrees that the increased presence of female chefs is better for everyone.
"It makes it a much more pleasant environment to work in," she says, before adding, "but you can go too far the other way, with too many women. It's better to have a good balance, as in any working environment."
Clare resisted the label of 'female chef' for a long time, wanting to be known for her talent rather than her gender.
"I never wanted to be separated," she explains, "but as I've grown up I do understand the importance of having someone at the top of the industry who you can recognise yourself in, and say 'if that person can do it, I can do it'."
As to why there aren't more female chefs in the industry, Clare says she simply doesn't know.
"The working environment is way better now, for everyone, so being a chef is a much more attractive profession - and a much more professional profession too," she says.
"It's people's choice whether they want to go into it, but there's nothing to stop them doing it if they choose to."
Ruth Lappin's early career choices saw her studying to become a nurse before setting her sights on cheffing.
She agrees with Clare that the issue is more down to the choices being made by potential young chefs than actual obstacles within the industry.
Ruth (in action, left) is one of four female chefs working under Kieran Glennon at Restaurant Patrick Guilbaud, in a team of just over twice that number.
"If I was to walk into a two-star kitchen and see four girls working there, I would think it was great," she says.
She admits that growing up with four brothers has served her well in the kitchen environment, where you have to be thick-skinned and not take things personally, no matter what your gender.
"It's challenging," she says, "but it's challenging for everyone."
If anything, Ruth believes that the women she has worked alongside are stronger chefs.
"It seems that girls seem to stick it out longer than guys," she says in reference to her work colleagues.
"And in my class in college, I think the girls were the strongest kitchen-wise."
Ruth recently graduated from DIT Cathal Brugha Street with a BA in Culinary Arts. Of her 45 fellow graduates from her class, only five are currently working in restaurant kitchens, with the rest of them choosing alternative career routes such as food product development.
That three of those five are young women seems impressive - until you consider that 70 per cent of Ruth's classmates were female.
Statistically, then, about a quarter of her male classmates chose the professional kitchen life, compared to just one 10th of her female classmates.
Ruth is not convinced that it's a gender issue, however.
"I don't know if it's an issue that there aren't that many girls in the kitchen, or just that there aren't that many people coming into the kitchens."
Part of it, she suggests, is the contrast between life as a culinary arts student and life in a professional kitchen.
"Cheffing is full on and what you're taught in college is not what it's like," she says.
"They teach you everything you need to know, all the basics, but you need to be practising those skills. I feel like a kitchen is the only place you're gonna learn to be a chef."
Before she began her degree, Ruth worked a summer in a professional kitchen to be sure that it cheffing was for her.
She gained further experience in Dublin's Fallon & Byrne and Manhattan's WD50 while studying. As Euro-toques Young Chef of the Year 2015, she will travel to London for an all-expenses-paid stage working under Clare Smyth, who has tipped Ruth as "one to watch".
"That blew my mind," says Ruth. "She said to me 'I'd be really interested to see where you'll be in five years time, when you come into your own as a chef', which is just the biggest compliment anyone can pay to you."
It looks like Irish fine dining may be about to become a whole lot more civilised.