Women and three children rescued on mountain after they became lost in the dark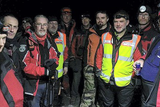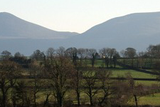 Mild weather helped rescue volunteers safely locate a young family including three children who became lost in the dark on a Tipperary mountain.
The family had gone for a Saturday afternoon walk in the Knockmealdown Mountains on the Tipperary-Waterford border near the scenic beauty spots of Bay Lough and The Vee.
However, they misjudged the time of their return journey and became disorientated when darkness fell and they couldn't locate their route.
The group was made up of two women in their 20s and 30s and three children aged eight to 12 years.
assisted
The alarm was raised at 8pm and a major search operation was mounted by the South East Mountain Rescue, Irish Coastguard, Tramore Cliff Rescue and gardai.
Searchers were assisted by the Waterford-based Sikorskey helicopter, Rescue 117.
The family found shelter and managed to stay warm before they were safely located and successfully rescued at 4am yesterday.
SEMR official Jimmy Barry said the family were none the worse for their ordeal.
"We were very fortunate in that the weather was so mild," he told the Herald.
"It certainly wasn't typical February conditions up there. It made our job an awful lot easier."
"The problem was that it was so dark. There was no moon or stars and they just couldn't find their route."
They family are from Tipperary but do not want to be identified.
"We are just delighted that they were found safe and well. We had a debrief after the rescue and all rescue groups worked extremely well to bring this operation to a successful and happy conclusion," Mr Barry said.
The Irish Coastguard has repeated its warning to hill-walkers and ramblers to take extreme care on mountains given the season and possible weather.
hnews@herald.ie