Wide open Wembley urgent problem for Spurs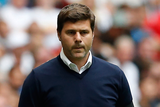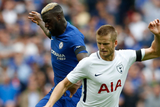 Wide open spaces at Wembley came to Antonio Conte's rescue and underlined how big a job Mauricio Pochettino has on his hands this season to find big results at home.
I thought it was very telling how Spurs struggled with the possession they had against Chelsea, given room to play and would point firmly at the change from the tight confines of White Hart Lane to their temporary new home as the reason.
The bigger pitch exposes players like Eric Dier and Victor Wanyama who simply cannot do anything positive when they get on the ball.
At White Hart Lane they could get away with that but at Wembley, with players like N'Golo Kante and Willian facing him, Wanyama didn't know what to do except pass the ball back or sideways and usually to Dier.
Home advantage is about more than just the pitch. Time and tradition give a stadium a presence and for players, it's about the confidence your surroundings bring to you and the support of the majority of the people in the ground.
Wembley can only ever supply that kind of environment in a limited way. Habits become engrained and any disruption from the normal routine is rarely a good thing.
Pochettino claims that Spurs' Wembley jinx is just a media invention and that his team will win plenty of games playing the way they did against Chelsea.
But even if you strip away any Mystic Meg aspects to the story and just talk about how his players perform, it has to be a big concern for Pochettino that he doesn't have men who can exploit the extra room.
He has good defenders, we know that and he has two of the most dangerous attacking players in world football in Harry Kane and Dele Alli but if he can't find a way to get the ball to them often enough, he really has a problem.
I'm not saying Spurs won't be competitive this season. The scale of Wembley will play into their hands against weaker teams but I think they will find it very hard to beat Top Four rivals there.
Manchester United will definitely be one of them and I've already spoken a good deal about Nemanja Matic and the difference he is making at Old Trafford.
A group of players which looked ordinary and uninspired this time last year is bubbling with confidence because Matic can use space on a football pitch positively.
Matic is far from being one of the greats of the game but he does most of the things you want to see in a good midfielder well and is being encouraged by Mourinho to get on the ball and run the show.
That's the key to all of this. If managers do not encourage players to use space positively, it doesn't matter whether they are competent enough to do it or not.
In Spurs' case, I do think the issue is talent.
We saw last season how Spurs struggled in the Champions League against Monaco and Leverkusen at Wembley.
They lost both games and only managed a single goal and I don't think Pochettino can solve his problem with the players he has in his squad.
Spurs appear to be still in the ring for Ross Barkley and Riyad Mahrez and while they would be a great improvement on what's there, neither can do what Matic does and with a wage cap in place, signing them seems unlikely.