Why Ger Brennan is on a dual mission
Brennan: I've a point to prove ...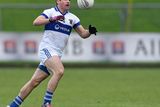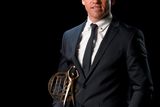 WHEN Ger Brennan emerged from last year's All-Ireland winning club campaign with St Vincent's, his spirit was ebullient but his body was half-broken.
He didn't play a single minute of football for Dublin last year - as a "direct consequence" of the injury issues that arose from playing through Dublin's All-Ireland coronation of 2013 and then straight into a marathon odyssey with his club.
Now Brennan is back chasing that rarest of feats - back-to-back All-Ireland club glory. But if he ever allows his mind to wander beyond February 14 (when Vincent's face Corofin in the AIB club SFC semi-finals) or even beyond St Patrick's Day, he views himself as having a "point to prove" with Dublin all over again.
ANCHOR
This, coming from a man who's won two Celtic Crosses with the county; a man whose intrinsic value as Dublin's centre-back anchor actually grew in his absence from the team for last year's All-Ireland semi-final against Donegal.
Harking back to last season's injury travails, he declares, matter-of-factly: "They were a direct consequence of, I guess, over-training and chronic fatigue. I pulled a stomach muscle against Donegal in Ballybofey, the last league game (in 2013) ... I was minding that most of the summer.
"I had to get surgery on that then over Christmas, and as I was getting back from that, the Achilles thing kind of flared up. So you're trying to mind yourself the whole time."
Coming back from that stomach muscle operation, Brennan missed last year's All-Ireland club semi-final against Ballinderry but returned to play a hugely influential sweeper role in the final against Castlebar Mitchels. Looking back, he accepts that his body was essentially half-broken coming out of that campaign - "because there's no end in it. There's no year; there's no calendar to it."
This helps to explain why this decorated club and county campaigner favours next year's planned introduction of a club calendar season, with the All-Ireland finals completed in December. There's another reason, too: perversely, the current system punishes those young players whose excellence for their club reduces the prospects of a county call-up.
COMPROMISED
Speaking in Croke Park where he was honoured as the Leinster football winner of AIB's #TheToughest club player awards, Brennan agrees that St Vincent's back-to-back club campaigns have compromised opportunities to stake a Dublin claim.
"It depends on where you are in your career to date," he expands. "Myself and Dermot (Diarmuid Connolly) have obviously experienced it playing. Jim (Gavin) would be very much aware of what we can offer. I know in my own situation, having not played last year, I certainly have another point to prove when I do go back in with Dublin.
"But you are definitely at a disadvantage. Depending on how far on you are in your career will, I guess, chart how much of a disadvantage."
But for their current club commitments, he reckons "four or five" Vincent's players who have yet to play for Dublin could have featured in this year's O'Byrne Cup.
"It just creates an even bigger challenge for them to get a game in the National League because there's obviously more things at stake. How do you put a younger guy in when you haven't seen him against any other county team yet? So it's a big ask of the manager to do that."