Why Bob Geldof didn't want Imelda May for Band Aid
Imelda May tells Joyce Fegan how she's the antibody to the X-Factor and why Bob Geldof didn't want her for Band Aid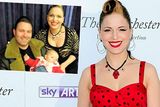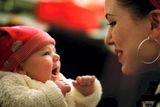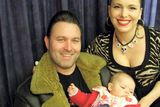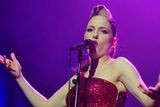 There is down-to-earth and then there is Imelda May.
That quiff is of her own making - she doesn't have a dedicated hairdresser, she "nearly fell off her chair" when a music college scholarship was named in her honour and she describes the Imelda May Show as the "antibody to the X Factor".
She laughed when Bob Geldof said "no" to her offer to contribute to Band Aid 30 last year.
The working mum sells out venues with her voice and attracts hundreds of thousands of viewers to the TV with her personality, but success has not altered the belle of the Liberties at all.
As with many breakthrough Irish acts, Imelda came to national attention following an appearance on Later . . . With Jules Holland in 2009, and then the Late Late Show, which she has appeared on many times since.
While a slot on the national broadcaster's flagship show might faze the heaviest of showbiz stalwarts the singer, in her typical low-key fashion, was colouring her hair 60 minutes before her curtain-call.
peroxide
"I don't have a hairdresser I do it myself. I use peroxide, it's not a bother, I use a little kit," she says. "I actually did it an hour before I went on the Late Late Show. I thought, 'My roots are in bits', and they were calling me saying, 'You're on in half an hour'.
"I'm old-school. I don't have make-up artists or hairdressers or anything. I can get ready in a panic in 20 minutes."
So, about Geldof's knockback.
"I just said I was around. I happened to have a couple of days off and my manager said, 'You know Bob Geldof is doing another recording (of Band Aid)', and I just said, 'Tell him I'm up for it'," says Imelda.
"But they just had loads of people on it, everybody and their granny wanted to do it, and I just said, 'I'm up for it if they want me to do it', and they said, no they had enough.
"I was roaring laughing. I didn't mind at all. It turned into a big story. It was no big deal, they just said they had loads thanks, it was fine."
Being a mother is now something the star is very familiar with as she juggles a busy showbiz career with parenting.
The 40-year-old dotes on little Violet, who's 18 months old, and no matter where in the world Imelda finds herself, the baby is always by her side.
"I probably get about four or five hours sleep a night and then I get a nap with her during the day and that tides me over," says Imelda.
"I have the morning with her all over the world; the beach in Carolina, museums, Cadbury World in Birmingham, we went out in a horse and trap in Killarney today.
"We do all that and have lunch then and a little nap and then I'll go to sound check and then we meet up for dinner, then I get ready and jump on stage for the gig."
But Violet is not the only kid Imelda is looking out for, as she is keen to keep nurturing young musical talent with her TV show, which attracted 750,000 viewers in its first season.
"I want it to be the antibody of the X Factor stuff where it's mostly about their granny dying and not their singing. This is about music and musicians," says the singer about the possible, but unconfirmed return, of her hit show.
"I would love to do another one if I could, my life is more on tour and being in the studio. I'm not a TV presenter twiddling my thumbs looking for a job, I'm busy, but if I could do it I would love to do it."
Her advice to any up-and-coming musician is to enjoy the "getting-there bit".
"Some people are so busy trying to make it that the getting-there bit is gone. Like the X Factor thing it's more a TV show than anything else. Sometimes people are swallowed up on those things and spat out," she say s.
Nowadays, and as a result of her show, Imelda gets handed demo CDs wherever she goes, and while she wants to encourage all young acts, she has her money firmly on three - folk duo Hudson and Taylor and bands The Caezars and The Whereabouts.
budding
Meanwhile, it was announced that a €12,000 scholarship at the Liberties-based British and Irish Modern Music Institute was being named after the local star, meaning other budding performers will get a helping hand to get a start in the musical world.
The first student will take up their place this September.
At the moment, Imelda's focusing on working on her fifth album.
"l'Il start thinking about writing the next album," she says.
"I've loads of ideas and thoughts and little lines written down, so you know, I'll see what way it goes.
"I always like to kind of throw it to the wind and see what way it takes me."
hnews@herald.ie