Who will be Pogba's wingman?
Carrick touted as favourite to partner £89m man in United's midfield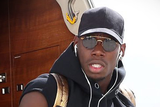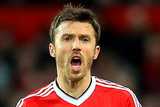 Jose Mourinho has hinted Manchester United will continue to start with a midfield duo and Paul Pogba could be partnered by Michael Carrick.
United started in the 4-2-3-1 formation during their pre-season fixtures and Community Shield win over Leicester as Mourinho waited for Pogba to complete his world record transfer.
Some United fans hope Mourinho switches to a 4-3-3 formation to accommodate the £89million midfielder, however Mourinho suggested he could continue with a midfield duo behind a playmaker.
Mourinho said: "We have Michael Carrick, 34 or 35-year-old-man. Stable, intelligent, to play as one man in front of the defenders, give us all the stability, he knows everything. Tactically very intelligent.
"We have people like Schneiderlin, Herrera, also play as that, they have experience of the Premier League but after that we have Number 10s. Mata we have, we have possibly Rooney, we have Mkhitaryan, we have number 10s.
"We don't (didn't) have what I used to call the second midfield player. The one that is strong enough, is powerful enough, has defensive intensity but at the same time has creativity, has goals, has arrival into finishing areas. He drives the midfield forward.
"We have passers, we don't have runners with the ball. So he's a profile of player we found."
Mourinho has five central midfielders to choose from after he discounted Wayne Rooney as a midfielder and omitted Bastian Schweinsteiger from his first-team squad. Carrick has spent the last 10 years at United and, although Louis van Gaal had no plans on retaining him had he remained manager, the 35-year-old started the FA Cup final victory over Crystal Palace and was usually a first-teamer under the Dutchman when fit.
United experienced problems under Van Gaal's rigid 4-2-3-1 system last season, with the midfield often detached from the attack - an issue they suffered for much of the first-half against Leicester at the weekend.
Mourinho did not mention Marouane Fellaini, who has spent chunks of his United career in defensive and attacking roles.
With Pogba likely to be rested for Sunday's opening Premier League clash at Bournemouth, the game will provide a chance for one of Mourinho's other midfielders to play for a place alongside Pogba.
Meanwhile, former United captain Gary Neville believes Mourinho has bought players who have 'the balls' to play for United, claiming they will win the Premier League this season.
"In the last three or four years, Manchester United have lacked stature on the pitch," Neville said. "They have lacked arrogance and they have lacked the players who have the balls to be real Manchester United stars. In signing Ibrahimovic and Paul Pogba they have players of stature and arrogance - in a good way - and, historically, United have always needed players with big personalities.
"They have a manager with a personality and stature. With those three people - and a couple of players who were already there - then there's an arrogance back in the club and the city. There are players wearing that shirt who will stick their chests out and that's what Manchester United is all about.
"I will say Manchester United for the title with Arsenal in second, Manchester City in third and Liverpool fourth."