'We're ready for tilt at title'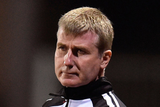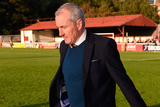 Cork City boss John Caulfield believes that his side are hitting form at just the right time as they face into a potential title decider away to Dundalk tonight.
The weekend's action, a heavy loss for Dundalk at home to Sligo Rovers and a win for second-placed Cork against Galway United have reduced Dundalk's lead at the top, to one point, and also hauled back the goal difference.
The two title contenders still have big matches to play, with St Pat's, Shamrock Rovers and Bohemians all having potential upsets within them against the top two, but with his side on a strong run of form, especially with U21 cap Sean Maguire on a goal-scoring high, Caulfield is bullish as he his team head north to take on Dundalk.
"We have been in a very good vein of form but in the last two months we have been scoring goals, keeping clean sheets and winning matches," says Caulfield.
Plaudits
"Dundalk have got all the plaudits, and they deserve it with their European runs, but our run as been as good, has been better, actually. Hopefully we can continue that up for the next two weeks,
"This year we have scored a lot of goals and kept a lot of clean sheets, a record, we have had 19 which is incredible,
"We felt for most of the season that we could make a title chase of it. Obviously some people around the country didn't think we could but we always felt we could, there are six games left and it's game on, the spirit and the attitude in the team is tremendous." Cork hold the upper hand in this fixture this season, two 1-0 wins from the two league meetings with the champions, but Dundalk have an edge from last season, having beaten City in that league decider at the end of the year and also the Cup final.
For Dundalk, the battle here is to recover from Saturday's heavy loss at home to Sligo, only the second time this season they have conceded three goals, including their testing European run, apart from a 4-3 win over strugglers Longford back in July. Caulfield is not heading to Oriel Park with a draw in mind.
"We want to win the match," he says. "Over the last three years we have progressed well, I think supporters can see this is the best team we have had, we have already beaten Dundalk a number of times this year, we hadn't done that for the previous two years.
"So we are going there to win the match.
"It's hard to know if the pressure is on them, they are at home, they are a point ahead and they have won the league for the last two years, the most important thing for us is to focus on our own game and making sure that everyone is ready for tonight.
"They have players who are good at putting the referee under pressure so we need to be ready."