WBA order Anthony Crolla-Darleys Perez rematch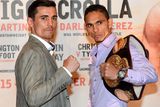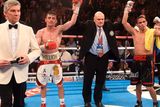 Anthony Crolla has been granted an immediate rematch of his world lightweight title fight against Darleys Perez.
The British fighter was frustrated by the judges in Manchester earlier this month when the bout was ruled a draw. However, promoter Eddie Hearn appealed the decision and the WBA has now ordered the two to meet again.
Hearn tweeted: "I cannot tell you how happy I am to announce that the @WBABoxing have ordered the rematch between @ant_crolla and Darleys Perez!"
Crolla appeared to have clinched a belt of his own in a close fight at the Manchester Arena on July 18.
Defending champion Perez of Colombia , 31, was twice docked points for frequent low blows - but the judges were split, with one ruling for each fighter and the third calling it a draw.
However, Thursday's news has delighted Crolla.
The 28-year-old tweeted: "So grateful to have this opportunity given to me with the immediate rematch to fight Darleys Perez for @WBABoxing world title.
"Last time was a special night and I believe with the support of the people of Manchester and Britain it will be even more special #AndTheNew.
"Huge thank you to @GilberticoWBA @WBABoxing for granting me the rematch. Sure me and Darleys Perez can put on a great fight for the title."
Hearn feels his fighter has been vindicated by the decision to award the rematch, which he revealed was slated for November 21 at the same venue.
He told Sky Sports News HQ: "There wasn't one person in the arena that scored the fight for Darleys Perez or even scored the fight for the draw.
"The two point deductions during the fight in Anthony Crolla's favour made it a clear victory for him.
"It was the public outcry...we're in an age where social media is available to the boxing fans and they can make their voices heard.
"And I think the support that Anthony's got from Manchester and the British public has been a huge factor in this decision from the WBA.
"Governing bodies always need a shot in the arm in terms of integrity and I'm so pleased we have a decision here from a governing body that has been given in the right way and quickly as well.
"They've gone to a judging panel and got a full analysis of the decisions from those experts and the answer was a resounding 'it should have been an Anthony Crolla victory'."