Warning over 'inflatable killers' on our beaches
weather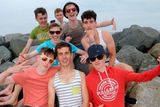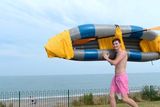 DUBLINERS are enjoying the warm weather, but one safety authority has urged people to be vigilant when cooling off in the water.
Irish Water Safety (IWS) has highlighted particular dangers to be aware of. According to the safety body, some toys used by children to play along coastal waters are "inflatable killers".
With the hot weather bringing families to beaches, the IWS has also warned against leaving children unsupervised.
Roger Sweeney, of IWS, said that the inflatable floats "can easily sweep someone away and out of their depth".
"They might as well be inflatable killers," he said.
Six children drowned in Irish waters last year.
A full moon over the next two days is expected to create conditions at sea which could leave people stranded due to rapid tides.
According to IWS, the full moon will allow "higher than normal tides" that could pull people into difficult conditions.
This week has seen the hottest weather of the year, with temperatures reaching more than 25C yesterday.
Ice cream sales are soaring with renowned ice cream traders Teddy's claiming to sell more than 1,000 a day.
Teddy's have been in business in Dun Laoghaire and Bray for more than 50 years.
"All we need is a little bit of sunshine and we get massive crowds," Yasmin Khan, of Teddy's Ice Cream said.
downpours
It is not yet known what July has in store for the country. beyond next week. The mercury level is expected to cool down to a steady 21C this weekend.
An unpredictable band of rain will also make its way across the country on Sunday, with heavy downpours expected. There is also a high risk of thunder and lightening.
Met Eireann's Deirdre Lowe said the weather for this time of year was unpredictable.
"It will gradually turn cooler this weekend but beyond that we don't know what is going to happen yet," she said.