Ward's senior service a big help for Hendrick and absent Brady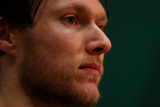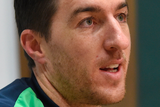 If there is one among all of Martin O'Neill's options who has defied many of football's harsher realities, it has to be Stephen Ward.
He suffered collateral damage from Giovanni Trapattoni's protracted withdrawal from the Ireland job and looked like someone who had a lot to do to save his international status inder the new O'Neill/Roy Keane regime.
His club circumstances were less than appealing post Euro 2012 and placed on the Wolves transfer list by Kenny Jacket, he opted for a loam move to Brighton.
At international level, Robbie Brady ticked the fresh blood box perfectly but Ward has held his own, the only serious option at left-full if his creative team-mate is pushed into midfield.
It's no harm either that he was in situ at Burnley to welcome two of Ireland's key men, Jeff Hendrick and Robbie Brady to Turf Moor and is available for reference and support.
Brady probably needed it when he twigged that a second yellow in Austria had wiped him out of the biggest home game of the campaign against Wales.
Gutted
"He's gutted obviously. I don't think he realised he was on a yellow card at the time. He was gutted," said Ward.
"Probably just a heat of the moment thing."
"He's a big loss for us because he gives us so much, with his set piece delivery and his eye for goal."
There's more to Ward than meets the eye. Check out his career statistics and one thing is immediately obvious. Ward plays. Doesn't matter which club he's at, he plays.
Managers clearly trust him and O'Neill is a fan. Based on the form he has shown for Burnley all season and once he showed up fit, he was always going to play against Wales.
Given the spate of injuries, Ward's presence and calmness is a major asset for such an important game.
Question
The fact that he may be the man saddled with patrolling Gareth Bale for spells in the game also makes him worth a question or two.
"We know how good he is, he's one of the top players in the world," he said.
"We've learned from the Euros playing the top players. Lads do it every week in the Premier League.
"I played against him when he was at Tottenham for Wolves," he said before pausing and laughing.
"There's no words you can say about him. He's a fantastic player and brilliant for them but we've got to concentrate on our game."
Club mate Hendrick expanded on that thought and believes that Ireland could get lost in admiration of Bale while the rest of Chris Coleman's team do their work.
"They didn't got that far in the Euros for nothing. They're not ranked 12 in the world for nothing," he said.
"I think a lot of people are playing them down just because of where they are in the group but they are still a very good team with some great players.
Tough
"But we're at home. We've got the fans behind us. We're raring to go and we know it is going to be tough.
"We have to take confidence into the game from the last year. We're top of the group and we want to stay there. We will have fight for every ball on that pitch and make sure we get the result we want.
"There's a great feeling around the group from the summer. Even in qualifying we had some great results and then in the Euros we had some great results as well.
"Great memories but that's gone and we can only take the belief going into games like this," said Hendrick.
"We know what we can do on our day against big teams so we just have to show it."