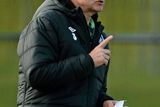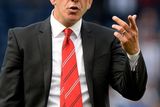 PAOLO DI CANIO has hit back at Ireland manager Martin O'Neill's comments branding the Italian a "managerial charlatan".
Di Canio succeeded O'Neill at the Stadium of Light in March and, on his arrival, criticised the fitness levels in the squad.
O'Neill, who takes charge of Ireland for the first time against Latvia tonight, this week dismissed Di Canio's barbs, saying: "Paolo Di Canio? That managerial charlatan?
"Paolo stepped in there and basically, as weeks ran on, he ran out of excuses."
And Di Canio today expressed his fury at O'Neill's comments.
"I don't know if he knows the meaning of this word charlatan," fumed Di Canio. "Probably I can teach him, even if I am not English.
"I respect the opinion of Martin O'Neill but the fact that he spoke after six months, not straight away, that proves what kind of level he is. He is not very big."
Di Canio stood by his controversial claim – hotly contested by O'Neill and others – that the Black Cats players were not in peak condition when he arrived on Wearside.
"The fitness levels were pathetic," he said. "I had three players with injuries in the calf after 20 minutes of a game. Six different players with problems means they were not fit."