Victoria leaves her blonde tresses behind for red locks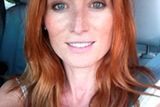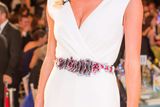 Victoria Smurfit has followed in the footsteps of Mad Men actress Christina Hendricks by giving up her blonde locks in favour of a fiery red style.
The Dalkey native has abandoned her trademark colour in favour of the classic Irish look.
Smurfit is one of a number of actresses favouring red alongside Interstellar's Jessica Chastain and Jurassic World's Bryce Dallas Howard.
The 41-year-old started out in Ballykissangel and is now known for her role of Cruella De Vil in fantasy series Once Upon A Time.
Underworld
The prime time show attracts huge audiences, with around 12 million fans tuning in to each episode.
Smurfit's character had been killed off but was brought back as the storyline focuses on the Underworld.
She will appear in the latter half of the fifth series which will hit screens again in March.
Meanwhile, it appears she may have found love after splitting from her husband, Douglas Baxter.
The couple had been married for 15 years and are parents to Evie Dorothy, Ridley Belle and Flynn Alexander.
However, Smurfit has been dating film-maker Alistair Ramsden, who was an assistant director on her recent film, Bait, which she produced.
The pair have shared numerous snaps of them together and they attended the HBO Golden Globes party earlier this month.
According to his online profile, Ramsden works with Creative Development for ITV Studios USA.
He previously worked on English soap Emmerdale before moving to Los Angeles last October.
Before relocating to the States, he was also in Ireland with Smurfit when she attended the Dublin Comic Con convention to discuss her role in Once Upon A Time.
Since then, the pair have shared photos of them celebrating Christmas together, on a ski trip with her children and on a trip to Disney World.