UFO-like clouds appear over city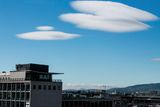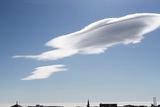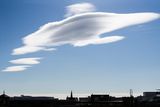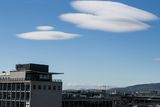 FREAK summer heat and moisture created a series of bizarre clouds over Dublin that resembled everything from a hovering UFO to a shooting star.
One cloud even appeared to be fuzzy image of the Starship Enterprise.
Sunbathers and shoppers were astounded by the clouds which were all the more dramatic given the blue skies and shimmering heat that formed their backdrop.
Vivienne Harte from Clonee was so amazed by one cloud over the Long Mile Road she stopped her car and took a photograph.
The image captured by Vivienne near Enterprise Car Hire's premises was an exact replica of a hovering UFO.
Her husband, Steve, admitted it was a bizarre sight and the snap proved a social media hit on Facebook and Twitter.
"It was incredible," Steve said.
Others posted similar photos of strangely-shaped clouds.
The phenomenon - known as Lenticular Clouds or Altocumulus Lenticularis - is a cloud form that is generated in the troposphere or high upper atmosphere.
FAMOUS
They can have a perpendicular alignment due to the manner in which wind direction shapes the cloud form.
Lenticular clouds are particularly famous for the way they can resemble UFOs.
In many cases, Lenticular clouds have a lens-type shape.
They can also appear to be stationary given their height and slow movement.