Two prison officers stabbed by escapee prisoner at Tallaght Hospital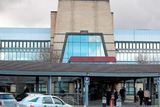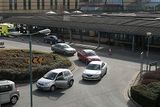 Gardai have launched a major manhunt after two prison officers were stabbed when the prisoner they were escorting staged a violent escape from Tallaght Hospital.
One of the officers was stabbed in the arm, while the other was stabbed in the stomach when the prisoner suddenly produced a knife after arriving for treatment under escort at the hospital.
The prisoner, believed to be a UK national and originally from London, was picked up by an accomplice on a motorbike and driven away from the hospital at speed.
It is understood the man, who is in his early fifties, was serving a prison sentence imposed in 2012 for a series of armed robberies.
The incident happened at 3.45pm this afternoon.
A city-wide garda manhunt is now underway in a bid to catch the prisoner.