Trinity gates rebuilt at a cost of €45k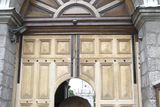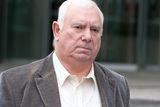 THE historic gates of Trinity College were salvaged by specialist repairers at a cost of almost €45,000 after they were almost wrecked last year.
Only the door frames needed to be replaced after the gates were damaged during an alleged dangerous driving incident.
As a result, the gates - which date from the early 1870s - were extensively damaged and had to be taken down by craftsmen.
The distinctive gates were originally constructed from European Oak with inner linings to panels that are made from pine.
CONSERVATION
Dunwoody and Dobson, the specialist heritage contractors, had the job of repairing the nearly 150-year-old gates under the supervision of conversation experts.
Repairs were made to restore the gates as close as possible to the original design.
The painstaking restoration has cost the college €44,738.77, which it is seeking to recoup via third party insurance.
The high-relief diamond pattern of the gates are the most distinctive feature of the wood used in the panels.
Matching oak wood was sourced by the contractors responsible for the restoration of the gates.
Damaged panels were replaced with a similar design and underwent a high polish before they were returned to the college.
The repaired gates were re-hung, in seven pieces, last June when the work was completed.
The front gate of the college plays an important part in the traditions of the university.
The doors are opened for visiting dignitaries and special ceremonies in the college.
During the incident, damage worth approximately €18,000 was allegedly also caused to other property in Trinity and the surrounding area
John Farrell (66), from Fassaugh Avenue, Cabra, has been charged with 21 offences including allegations of criminal damage and endangerment of life during last April's incident.
One of these charges relates to the damage caused to the college gates.
The historic front gate of Trinity was erected in the early 1870s as part of a college refurbishment and entrance to the Front Square, replacing the original gate from 1759.
hnews@herald.ie