Tributes paid to man who froze in lane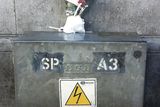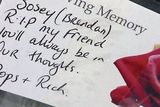 A MAN who apparently froze to death in a laneway in a seaside town has been fondly remembered.
Father-of-two Brendan 'Sosey' O'Brien (46) was well-known in Bray, where he would pass the day sitting on an electricity junction box outside the post office in Quinnsborough Road.
He was known to have a drink problem, but local people said he was never aggressive and was always pleasant and courteous.
FLOWERS
"He came in here every day for 14 years to buy his tobacco or cigarettes," said Jackie Curran, who works in The Gem newsagent near the electric box that became known as Sosey's Stool.
A small bunch of flowers was left on the box yesterday with the message: "RIP my friend, you'll always be in our thoughts. Pops and Rich."
Marcu Calina, from Moldova, who sells the Big Issue outside the post office, said he had been a friend of Mr O'Brien for six years.
"He was a nice man and would chat to his friends and other people passing by. I am very sad he has died," he said.
"It is hard to think that I will not see him at his favourite place again."
Mr O'Brien's body was found in a laneway off Florence Street at around 7am yesterday.
Although not homeless, he died outside after a night of extreme cold. Last December in Bray, a homeless man was found dead in the doorway of a shop after a night of severe frost.
Paul Doyle (33) was discovered lying outside the Tesco Express supermarket, only yards from where Mr O'Brien used to sit.
A post-mortem revealed he had died of hypothermia.
cfeehan@herald.ie