Treacy: we've moved on from Walsh affair
Barry Lennon finds Sport Ireland trying to put the boxing debacle behind them at the opening of a new €4m high-performance centre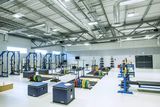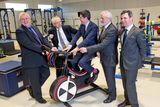 Chief executive of Sport Ireland John Treacy believes his organisation and the Irish Amateur Boxing Association (IABA) are moving on after Billy Walsh's dramatic departure in October.
Treacy had previously said that losing the high performance coach to the US women's team had shaken his confidence in boxing's governing body, at an Oireachtas committee meeting.
However, Treacy views the relationship as slowly but surely being rebuilt.
"You build confidence over time. You look into people's eyes to see if there's sincerity or not and at the moment we see sincerity in what they're saying to us.
"We've had a number of meetings with the IABA and we've all dusted ourselves down and got on with our job.
"It's business as normal with them now and we're moving on."
Tensions have eased and the chief executive believes there's no need for an independent review.
IABA chairman Joe Christle had suggested investigating the exit of the coach who had helped bring in four out of the five medals from London Olympics in 2012 during the most heated time after Walsh's exit.
The opening of the Institute of Sport's High Performance Training Centre at the National Sports Campus in Abbotstown yesterday, which has a dedicated boxing area with space for five rings, will go some way to healing any wounds.
Boxers, along with other athletes, are hoping to enter the building in the next few weeks for their Olympic games preparation.
The €4 million centre also boasts a four-lane 130m sprint track, physiotherapy and strength and conditioning centres.
This is a long way from where things had been.
At the time Gary Keegan had been at the IABA, sleeping accommodation for Irish boxers was sometimes on the floor in a sleeping bag.
Now, as the Institute of Sport's director, things look to be improving to Keegan, and he claims that the new facilities will build athletes' confidence, as he remembers his time with the Irish boxing agency.
"At one stage I made Billy sleep in the sleeping bag on the floor and he said 'where are you sleeping?' I said 'At home.'
"It's true, we started from a very humble place in boxing. We had seven bags hanging in that national gym.
"There was one ring in the middle of the floor.
"It was pretty cold and a pretty depressing area at the time.
"We were going out to other areas in Germany and Russia and seeing what the top nations were doing.
"I could see the impact on the mind set going back into the ordinary space from a world-class stage.
"With world class facilities it helps the athlete remove the excuses. Our place now is as good as anywhere else.
"Some of the ways we were doing things was not very good.
Squeeze
"Now we're trying to squeeze everything we can out of this resource"
Keegan had been involved in attracting some of the top talent in boxing's high performance unit.
He had tracked down Zaur Antia - the Georgian who became Walsh's right-hand man and succeeds as interim coach ahead the Olympic games this summer.
It would be understandable, therefore, for him to be disappointed at Walsh's exit from the Irish set-up.
However, Keegan says this is not the case.
"The system has to move on - that's the way it is. We can not be overly depend on any one person.
"The programme also wasn't overly dependant on me and I was delighted about that.
"I know that Billy would be very pleased to see the boxing programme continue to evolve and increase on the success he built as his legacy."
While admitting that Ireland cannot afford to lose anybody, Keegan prefers to view Walsh's departure as sign of the strength of the set-up he helped build.
"It's a sign of where we're at - our coaches are being targeted."