Top model January Winters swaps Dublin's streets for Milan's catwalks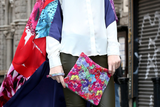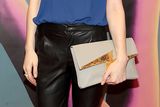 Irish model January Winters has swapped the streets of Dublin for the catwalks of fashion capital Milan, after being snapped up by a top agency.
Since being signed to the books of Italian agent Nologo management, the flame-haired beauty (26) is enjoying a stint in the city and has already worked with world famous fashion label Pinko.
With her high fashion combination of striking red hair and porcelain skin, the Ballybrack native said she won't be found posing in her bikini for a photo call.
"Each to their own I say. I prefer the more fashiony side of it, like the catwalk and editorial shoots. My look doesn't really suit [photocalls] - I'm not the best-looking girl in a bikini, there are others that are better at that than me," she told the Herald.
"I never really wear fake tan or anything like that, I think people who are going to book me know I'm pale, so I'm never asked to either. It doesn't suit me."
While she was originally only meant to stay in Milan for a few weeks, January admitted she settled into the model way of life in the city very quickly and opted to extend her stay.
"I flew over at the start of June and I was supposed to stay until July 17 but I extended my stay a bit," she said.
"I didn't think I would like it over here at all, I was sure I wouldn't stick it out for even a few weeks but I don't want to leave.
"Everything is based around fashion and modelling - you really feel like a part of the community."