Tim Sherwood delivers pep talk to inspire Villa against Foxes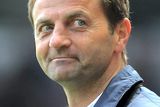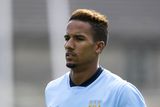 Scott Marshall revealed Tim Sherwood's half-time pep talk inspired Aston Villa to the FA Cup quarter-finals.
New manager Sherwood made an impromptu appearance during Villa's 2-1 win over Leicester with the score locked at 0-0.
Leandro Bacuna and Scott Sinclair then netted in the second half to send Villa into the last eight for the first time in five years.
Marshall, Villa's first-team coach, was in charge after Wednesday's sacking of Paul Lambert but admitted Sherwood made his presence felt yesterday.
"He came in and made a couple of points to the lads, a couple of bits and pieces for everyone. I thought the boys delivered that in the second half and were very good," he said.
"He was there and there was good information to the group, there's a football knowledge there which comes with a lifetime in the game.
"He was in the dressing room before the game briefly, not a huge amount, but he introduced himself and wished the boys the best."
Sherwood did not have any input in the team selection but watched with chief executive Tom Fox after being appointed until 2018 on Saturday.
Marshall is keen to stay on at Villa, after being brought in by Lambert, and will speak to Sherwood about his future.
He said: "The focal point has been the game and preparing the players. I am sure the next few days will take care of itself. The group have been very professional.
"They have delivered on the pitch and showed a great spirit and togetherness. They know they are going to have to take it forward in a league campaign."
And Marshall admitted he had spoken to the axed Lambert ahead of the game at Villa Park.
"He gave me a bit of encouragement for the day and wanted the team to do well and that was it really," he added.
Andrej Kramaric scored in stoppage time to set up a nervy finish but the Leicester fans chanted 'what a load of rubbish' in the second half.
"People are entitled to their opinions, it doesn't matter what I think," boss Nigel Pearson said.
But with the Foxes out of the Cup and bottom of the English Premier League the manager admitted they must improve.
He said: "We know we have a lot to do this season but what we have to do is find a way of being consistent.
"I never thought it would be easy but we're not making life easy for ourselves
"We need mental resilience, absolutely. With the players' technical ability they are only able to put on show if they have the mental qualities to do that.
"It's been suggested that it is easier to prepare against the bigger sides but I do not know. We have found ourselves in losing positions far too often."