Tiger Woods love 'scandal' allegedly involving fellow golfer's ex-wife sparks furious denial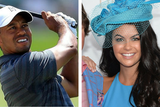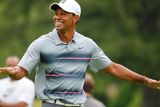 Tiger Woods' management has felt compelled to issue a statement dismissing reports of the 14-time Major champion having an affair with Jason Dufner's former wife.
With Woods preparing for his Open warm-up at the Greenbrier Classic, social media was awash with the latest Woods love "scandal". National Enquirer, the magazine which in 2009 first revealed Woods' multiple mistresses, claims that the 39-year-old cheated on Lindsey Vonn with Amanda Dufner, going public and quoting "sources" about rumours that have circulated on the range for weeks.
US skier Vonn and Woods split in May after a three-year relationship, while the Dufners had a quick and unexpected divorce the month before.
However, Mark Steinberg, Woods' long-time agent, was emphatic in his rebuttal. "Absolutely 100pc false," Steinberg said in an email to Fox. "Complete lie and fabrication."
Woods could do without this as he tries to recover form in time for the Open at St Andrews in two weeks.
Today, he plays in the first round in West Virginia (© Daily Telegraph, London)