This weekend sees Buoys in Blue on both sides of the city
events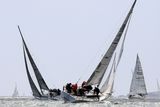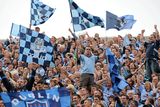 There will be more than plain sailing in Dun Laoghaire this weekend as hundreds of boats take to the water for a fiercely competitive regatta.
Over 2,500 competitors in 400 boats will take to the high seas for Ireland's biggest sailing event.
The Volvo Dun Laoghaire Regatta attracts thousands of visitors as members of 69 yacht and sailing clubs from all over Ireland and the UK battle it out.
Organisers said that the bright and breezy conditions have helped teams' performances.
The four-day event is also an opportunity for many of our Olympic hopefuls to compete on the high seas.
Annalise Murphy, who narrowly missed out on a medal in London 2012, raced yesterday and was happy with her showing, tweeting: "Some fun racing - no crashes by me today."
Dun Laoghaire harbour is historically known as the "cradle of yacht racing", according to Timothy Goodbody, regatta chairman.
"Modern yacht racing began here - it started here in around 1857," he said.
Meanwhile, on the other side of the city, the Boys in Blue will take on Westmeath in the Leinster Football Final tomorrow. It will be the teams' 16th championship match.