'They have no more patience with the FAI'
Owens warns of immediate and disastrous consequences for football if members don't sign off on rule changes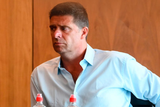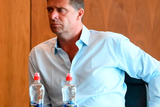 In a year where the football calendar has been thrown into chaos, the only consistent fixture is rumblings around the boardroom picture at the FAI. There's no obvious end in sight.
Interim CEO Gary Owens and his deputy Niall Quinn held a press briefing yesterday to discuss a range of matters in advance of Friday's emergency Council meeting in the Red Cow, a summit that was arranged by unhappy members of the football family.
There was a lot covered in the briefing that would have taken centre stage on another day; confident musings about progress on the All-Island league, external help for the latest League of Ireland five-year plan and even loose chatter about pushing for international events.
Yet Owens also brought home the pressing short-term concerns when he stressed that the FAI will run out of money next month if members don't sign off on the rule changes that restore government funding.
"I don't think they have any further patience in relation to supporting the FAI," he said. The public's patience in this saga is wearing thin too.
What's this all about?
The FAI needs formal approval of January's rescue deal, even though the terms of the memorandum of understanding (MoU) were not popular with rank and file members of the 'football family', including board members who feel independent chair Roy Barrett signed a deal which constitutes a loss of control.
They were opposed to a change to 50 per cent representation of independent directors on the board and a clause which says that Council members with more than ten years service should step down immediately.
But government have said this deal must be rubberstamped before the cash is delivered.
Owens says around €36m is at stake when the FAI's application for €10.5m of Covid relief is factored into it.
How do the FAI plan to get it passed?
There are two amendments that are being looked at. While they are not flexible to changing the 6 v 6 representation on the board (Quinn's message is that it should be 6 and 6 as there shouldn't be camps) the idea that the casting vote would go to the President rather than the independent chair Barrett is being considered but that would require another EGM vote. "The casting vote is not a requirement of the MoU," said Owens.
In the short term, they are definitely proposing that the mandatory exit for ten-year veterans is replaced by an electoral code, effectively a fit and proper persons test, for anyone who wishes to sit on an FAI committee.
Is that not changing the terms of the MoU?
The FAI executive said yesterday that it was retaining the spirit of that deal because the electoral code is being 'lifted' from FIFA and UEFA and they had said they would adopt best practice.
"Anyone over 10 years who is fit and proper, not conflicted and has the proper skill set, we will be happy to appoint them," said Owens, who added that the electoral committee will have three independent lawyers.
So the former board members and Council members with 30+ years service could now stay on?
In theory, yes. When pressed specifically on the issue of former board members, Owens gave a response which could be interpreted as an implication they may find the test challenging. "A fit and proper test will be have you ever served on the board and gone insolvent. They could be in trouble with that," he said. "Someone is going to have to assess that, an independent."
Are the government ok with this?
There were early soundings last night that governmental figures were alarmed by this turn of events and it has not gone down well with newer members of FAI Council who are likely to seek more clarity on Friday. A recurring theme of this process has been the ability of Barrett to smooth things over with key stakeholders such as FIFA and UEFA so one would assume the FAI have envisaged governmental queries about this tweak to the MoU (which is not a legally binding document). Sport Ireland are due to hold talks with FAI officials today. One to watch.
What is the future for Owens and Quinn?
Their appointments were another talking point given their past relationship with Barrett through the 'Visionary Group' established last year to look at the League of Ireland. The duo were at pains to point out that Owens only participated in one meeting via phone and the group disbanded quickly.
They dispute any talk of 'a coup.' Quinn's contract is up and he is staying on until the EGM and will then review his position. Owens was coy on whether he will apply for the vacant post of permanent CEO. That process will start from September with the successful candidate earning €202,000.
Was Rea Walshe discussed?
Owens stood over the decision to retain Walshe as chief operating officer despite the revelation she had been paid by John Delaney for personal legal advice while working for the FAI. He said that was the only issue for Walshe in the various reports, describing her as an 'exceptional talent' and adding that Sport Ireland approved of the decision to keep her on after an internal process criticised by Brian Kerr amongst others.
Don't Sport Ireland have questions to answer too?
"I think that is a question for them," replied Owens. "I wasn't around." This is an elephant in the room.
Is the FAI brand a busted flush?
Owens admitted that a change of name and rebrand was considered but it was dismissed as next year's centenary should provide a reminder of happier times. The jury is out on.