There's no show quite like a Joe show
Galway 0-22 Tipperary 1-18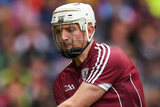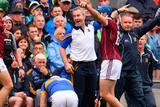 If this is to be Galway's year, yesterday will be remembered as the moment they finally cracked which role best to employ Joe Canning in.
Match-winner extraordinaire.
"It was fantastic. He is a heart-breaker," noted a crushed Tipperary boss, Michael Ryan after his team went down by a point to Galway in another seismic All-Ireland semi-final, the third in-a-row between these teams to be settled by just a point.
And what a point it was.
"When you come out of a game like that," observed Michéal Donoghue, the Galway manager who arrived to the media room under the Hogan Stand beaming with relief, "winning by a point …. when he gets the ball in that position there's a great chance it's going over.
"I think in big games like that, big moments are defined by your big players and he really stood up to the mark at that point."
It has been said and repeated that this year that Donoghue has put together a support cast befitting Canning's immense talents, ready and able to share his burden.
For about a half hour yesterday, it actually seemed like they were carrying him.
Canning hit five wides and an upright and struggled to have any great relevance in the initial garbled conversation.
Morass
Yet he scored the last five Galway points of the match. Big moments. Big player.
He looked to have won it with a free from 90 yards as the final seconds of normal time drained away but a nerve-testing equaliser from Brendan Maher meant Canning needed to hit two winners to win the one game.
In the fifth minute of injury-time, Jonny Coen had the presence of mind to go backwards and feed Canning after hitting a morass of Tipp jerseys.
Somehow, Canning squeezed out a shot from the '45' on the Cusack Stand sideline despite the swiftly approaching Noel McGrath and Niall O'Meara.
Afterwards, Canning declined requests to speak about it when he emerged from the Galway dressing-room.
It was a shame because the afternoon and his late heroics were another brilliant passage in the book of his career that now, perhaps more than 2012 or 2015, looks bound to feature the All-Ireland winning chapter everyone presumed he would achieve when he exploded onto the inter-county scene a decade back.
There were, it must be noted, most consistently good Galway players on the day. Gearóid McInerney, for instance, was a colossus at centre-back.
Pádraic Mannion alongside was equally heroic.
And up front Conor Whelan fizzled with manic energy and direct, ambitious running and scored four points.
But despite his dull start, Canning effectively won the All-Ireland semi-final for Galway.
"For long periods I would have said we did well," Ryan reckoned about Tipp's marshalling of Canning.
"He did get some traction on us when he came to the number 10 position.
"Galway to be fair retained the ball well for two or three instances where he could, I don't know what he got from play, but certainly two from that 10 position.
"Look, he is an outstanding talent."
For his part, Donoghue admitted "it was a challenge to get him into the game.
"I thought in the first-half it was probably bypassing him a bit and in a game like that you want your big players on the ball. We moved him inside because there was a lot ball going in in the first-half.
"We moved him inside into the full-forward line. It just seemed that wherever he was it wasn't going to."
It wasn't the most stylish All-Ireland semi-final ever played but the second-half was among the most entertainingly frenetic.
THREAT
Galway always seemed to be the prevailing force in the game but Tipperary's goal threat was constant.
They got one through John McGrath at a time in the first half when they looked to be sinking but could have had a couple more thereafter through Seamus Callanan and Noel McGrath.
"This is what will haunt us over the winter," Ryan admitted, "those half-chances and (asking) did we make good decisions?"
Donoghue meanwhile, reckoned his team's experience of All-Ireland finals, albeit bad ones, would be "a huge help" against whichever September novice emerges from next Sunday's clash between Waterford and Cork.
"They have massive experience," he pointed out.
"Every game that passes I just think they are getting better and better and more confident.
"They are in a good place," he added.
SCORERS - Galway: J Canning 0-11 (6f, 1 '65', 1 sideline), C Whelan 0-4, J Coen, C Cooney 0-2, P Mannion (f), C Mannion, J Cooney 0-1 each. Tipperary: S Callanan 0-5 (3f), J McGrath 1-1, J O'Dwyer, B Maher (2f) 0-3 each, Pádraic Maher, N McGrath 0-2 each, S Kennedy, J Forde 0-1 each.
GALWAY: C Callanan 7; A Touhy 7, Daithí Burke 7, J Hanbury 7; P Mannion 8, G McInerney 8, A Harte 7; J Coen 7, David Burke 7; J Cooney 7, J Canning 8; C Whelan 8, C Mannion 6, C Cooney 7. Subs: J Flynn 5 for N Burke (45), J Glynn 7 for C Mannion (53), S Moloney 6 for C Cooney (70).
TIPPERARY: D Gleeson 7; D Maher 5, J Barry 7, M Cahill 5; S Kennedy 6, R Maher 7, Pádraic Maher 7; B Maher 7, D McCormack 6; M Breen 5, N McGrath 7, Patrick Maher 7; J O'Dywer 7, S Callanan 7, J McGrath 7. Subs: J Forde 5 for Breen (34), N O'Meara 6 for Forde (61).
WIDES - Galway: 13 (6 + 7). Tipperary: 11 (5 + 6)
BOOKED - Galway: 1 (Canning 29). Tipperary: 1 (Gleeson 50).
ATTENDANCE: 68,184.
REF: B Kelly (Westmeath).
MAN OF THE MATCH: Joe Canning (Galway).