Tears as 'Rocket' back safe and well after kidnap ordeal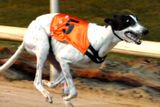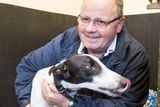 The trainer of champion greyhound Clares Rocket broke down in tears of joy alongside the dog and said: "It's like winning the Derby again."
Irish Derby-winning trainer Graham Holland, who previously guided "Rocket" to numerous, wins including the prestigious Champion Stakes and Produce Stakes, choked with emotion as he described a phone call from gardai telling him his beloved racing dog was "alive and well".
"We brought Rocket home, gave him a feed and pampered him. There was lots of tears," he said.
"It is like they broke into our privacy. You work with these dogs seven days a week and they become members of the family, and it feels like somebody has been taken from you."
The father-of-three, originally from Dorset, England, said he was "over the moon" when he walked into Tipperary Garda Station just after midnight yesterday to collect Clares Rocket.
"I think everybody thought, like we did, that we'd never see the dog again, a bit like Shergar," he said.
"To have a fairlytale ending to a sad thing is unusual. For once there's a good ending.
Disappear
"If gardai never found the dog, you'd always wonder was he still out there. It would be similar to Shergar.
"To be really honest, we didn't think we were going to see him again. The feeling was, once it hit national news, the people who took him would panic and probably destroy the dog and disappear.
"He will race again, he's in good enough condition. They didn't badly treat him. They obviously fed him and let him have water, he wasn't dehydrated."
Mr Holland, who won the Irish Derby this season with Rural Hawaii, said he would be increasing security at his home and kennels.
He hopes Clares Rocket can compete in next year's English Derby, which offers up to £250,000 (€293,153) in prize money.
"It is a big prize. It takes a lot of winning and there are a lot of ifs and buts, but Rocket is a dog that's good enough to win it, if he's lucky enough.
"He's lucky enough, he must be, to have come home safe."
Son Timmy Holland (18) said he was "heartbroken" at the theft.
"You wouldn't expect someone to steal a dog. I'm delighted he's back. I felt responsible that he was taken," he said.