Suspect still held over horror murder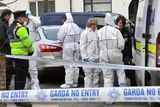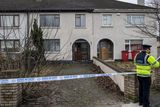 A 21-year-old man was still being questioned last night about the murder of Kevin Molloy, whose body was discovered at his north Dublin home at the start of this month.
Sources have revealed that the man who was arrested yesterday morning was not previously well-known to gardai and that the murder victim may have suffered a "horrible random attack".
He is being questioned at Finglas Garda Station about the murder of Mr Molloy (41) who was was found at the bottom of stairs of his house in the Glendhu Road area of Cabra with horrific head injuries on February 1.
discovery
Mr Molloy suffered extreme blunt force to the head and his injuries were so extensive that gardai used DNA evidence to formally confirm who he was.
It is believed Mr Molloy had been living in the house in Cabra for eight years and was originally from Drumcondra.
The victim had been dead for over a week before the grim discovery was made.
While a lock was broken on the hall door, it was unclear if that damage was caused by family members trying to enter the property or if it had occurred at an earlier date.
The dead man was not well-known in the area. It is understood that he had developed an alcohol problem in the years before his death and had fallen on hard times. An investigation by detectives from Cabra Garda Station is ongoing.
kfoy@herald.ie