Super Bowl XLIX: Tom Brady praises New England Patriots' mental toughness as he revels in 'awesome' victory
Brady threw four touchdowns but had to watch as Seattle Seahawks quarter-back Russell Wilson threw an interception with seconds left on the clock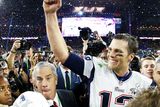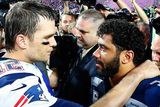 MVP quarterback Tom Brady was thankful to be on the right side of some late drama after guiding the New England Patriots to their fourth Super Bowl title with a thrilling 28-24 victory over the Seattle Seahawks in Arizona.
Brady made NFL history by tossing four scores and 328 yards to surpass his childhood hero Joe Montana for the most touchdowns in Super Bowl history, but, even then, he almost suffered a third straight defeat on the grandest stage.
A sensational circus catch from Seahawks wide receiver Jermaine Kearse, who juggled the ball four times while falling backwards before reeling it in, helped Seattle reach the one-yard line with 20 seconds remaining.
However, instead of letting star running back Marshawn Lynch punch the ball in, Seattle called a pass play and Malcolm Butler picked off Russell Wilson in another dramatic Super Bowl conclusion.
The Patriots were beaten in the same stadium by the New York Giants seven years ago when David Tyree hauled in a one-handed grab against his helmet, so Brady was especially delighted to profit from Butler's play this time around.
"I've been on the other end of this twice now, being ahead late and not being able to make the plays to win," said the 37-year-old.
"This time we made the play to win.
"It's just awesome, what an experience. There was a lot of mental toughness by our team, a lot of physical toughness. We've played against a phenomenal defence and ultimately we made enough plays."
The bafflement surrounding Seattle's reluctance to turn to Lynch in their hour of the need was shared by players on both sides.
Seahawks linebacker Bruce Irvin was perplexed by offensive coordinator Darrell Bevell's choice of trying to throw the ball with just a solitary yard needed.
"We had it," he said.
"I don't understand how you don't give it to the best back in the league on not even the one-yard line. We were on the half-yard line and we throw a slant. I don't know what the offense had going on, what they saw. I just don't understand."
Brandon Browner, a Patriots cornerback who used to play for Seattle, believes his former team got too cute in the dying throes.
"I'm just as surprised as everybody else," he said.
"Marshawn Lynch, hands down, is the best running back in the game. I don't know what they were thinking.
"I just feel like sometimes these coaches are so intelligent they outstrategise themselves. It's simple - you turn around and give it to the best back in the game."
Wilson himself thought that his pass had ended up in the hands of his intended target Ricardo Lockette, rather than Butler.
"I thought it was a touchdown, honestly," the defeated quarterback said.
"I put the blame on me; the guy made a play.
"I don't know what I could have done differently, I need to see it. We were right there so I put the blame on me."