Summer form makes April fools of us
Monaghan must protect full-back line or risk getting another hiding from Sky Blues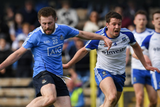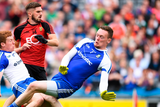 Maybe next year we'll stop thinking we know everything in April. Remember April?
Kerry were the kingpins of the league then.
The Dubs meanwhile, were fallible and more clearly visible to the chasing pack than had been the case for a while.
Tyrone were under real pressure after losing three league games in-a-row and, as tends to happen up there for some reason, people were even questioning Mickey Harte's continued association with the team.
April was also the month Kevin McStay and Liam McHale came to Croke Park and stood in the same spot they occupied last Sunday, nearly embarrassed by the performance of their Roscommon team as they were devoured by Dublin.
For his part, Kieran McGeeney had failed to get promotion from Division 3 - again - and if he paused long enough to gather his thoughts, could probably just about hear the sharpening of knives behind his back.
Fleeting
And in April, Mayo were being Mayo. Inconsistent as ever. Surviving rather than thriving and showing only fleeting glimpses of what made them All-Ireland finalists just six months previous.
Now?
The landscape is changed.
The teams we thought would be here are still knocking around; Dublin, Kerry, Tyrone, Mayo.
But now McGeeney and McStay are being hailed as geniuses.
Unlike April, their teams have momentum and they're playing with certainty but the truth about Roscommon and Armagh is somewhere between the spring criticism and the summer praise.
So really, the only team sticking to form are Monaghan.
At the start of the year, Monaghan looked like they might be going places.
They are a phenomenal county for fighting above their weight and staying amongst the top-six teams since their breakthrough in 2013.
But have they improved since last year? Or since they were hammered by Dublin in the All-Ireland quarter-final in 2014?
Just now, they seem to be slightly confused about how they want to play the game.
Nothing looked more solid in this year's league than Monaghan's full-back line but twice now, Down and Connaire Harrison have put the jitters into them.
Monaghan tend to flood the middle third but seem to be abandoning their own full-back line as a consequence, leaving space around the 'D' and their inside backs vulnerable.
And up front, they've just been a bit of a letdown.
Monaghan were perched just outside that top-three or four but the emergence of Jack McCarron as a scorer of immense ability and to release the pressure on Conor McManus to hit big tallies in every game was, I felt, going to push them into more illustrious company.
The same goes for Conor McCarthy.
Those three forwards should flourish and score heavily in a team that keeps it tight at the other end and maintains a healthy supply of possession to their men up front.
Pressure
But they seem to have lost their way a bit. The forwards have lost their confidence and their full-back line is under pressure.
And looking towards tomorrow's game, everything Monaghan do must be predicated on not giving Dublin anything easy in the first half.
They have to break the game down into sub-sections and it's imperative that they protect that area in front of their goal for the first 25 minutes, get bodies back and stop - at all costs - Dublin scoring goals to spark an onslaught.
They must play with intensity. They have to do what they did in 2013 when they out-Donegal-ed Donegal and rattled the then All-Ireland champions, got in their faces and made sure their defensive structure was solid.
You might get some praise for pushing up on Dublin and having a go but you're also going to get walloped.
It's all well and good saying they've nothing to lose because they're playing Dublin but the avoidance of the sort of hammering they suffered in the 2014 All-Ireland quarter-final is vital for a team that could go in either direction next season.
The Farney County men should do just that tomorrow in Croker but no more.