Strictly's Siberian Siren won't tempt my Daniel, reveals Majella O'Donnell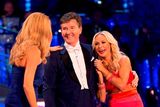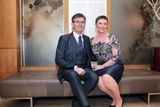 Majella O'Donnell has said there is no chance of her husband Daniel running off with Strictly Come Dancing's 'Siberian Siren' Kristina Rihanoff.
Singer Daniel has been partnered with Kristina for the BBC's reality TV show.
Kristina has dated two of her former dance partners on the show, Ben Cohen and Joe Calzaghe.
But Majella said there was no chance Daniel would ditch her for the lithe and nimble dancer.
"I am very relaxed about it for God's sake," Majella said.
"The poor woman doesn't have to go off with everyone she dances with.
"I don't think I'll be ditched, I'm fairly confident about that," Majella added.
Rihanoff is now dating Ben Cohen.
"Kristina is very happy where she is now and we are very happy," Majella told The Ryan Tubridy Show on RTE Radio 1. "I have no qualms about that at all. I have met her and she is lovely."
According to Majella, Daniel's speciality dances include the waltz and the foxtrot.
Watching her husband shimmy across the dance floor will be a nerve-racking experience for Majella.
"I am going to be sick for the length of time he is in it - terrible nervous for him," she said.
Majella and Daniel will next appear in UTV Ireland's series Daniel and Majella's B&B Road Trip.
During the series, the couple will visit different B&Bs and complete a series of regional tasks.
"It starts at beginning of October and it is quite entertaining and funny," she said.
"I saw it for the first time and have been laughing my head off. People are going to think that I am nuts and they are going to see a different side to Daniel. They will see his wit and how we interact."
See Anna Nolan, page 15