Street performers to bring carnival feel to Dublin centre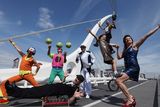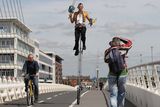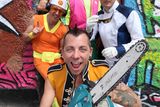 The streets of Dublin are to once again become a stage for some of the world's most talented street performers.
Over 16 acts from as far away as Sweden, Belgium, USA, Canada, Argentina and Australia will join homegrown talent to put on a show in Merrion Square this weekend, before moving on to Cork next weekend.
talents
Musicians, contortionists, dancers and iron benders are just some of the performers to show off their extraordinary talents in the three-day Laya Healthcare City Spectacular that kicks off today.
Argentinian sports fanatic Victor Rubilar, a world record-holding football freestyler, will be showing off his impressive footwork skills.
Meanwhile, Australian sword-swallower and extreme performance artist 'The Space Cowboy' will be demonstrating why he holds an astonishing 34 Guinness world records.
Irish rockers Keywest are also among the talent lined up to entertain crowds.
The band are already a common sight on the streets of the city and can be regularly spotted busking on busy shopping areas like Grafton Street and Henry Street, so they're not fazed by performing to crowds this weekend.
Lead singer Andy Kavanagh told the Herald that the popular five-piece have strengthened their live-performance skills by busking so often.
"We have performed all over the world on streets that have successfully integrated systems of busking," he said.
"The point of street performance really is to enhance a city."