Stand-off as inmates climb onto roof of Cloverhill Prison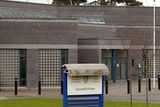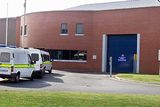 A number of inmates have climbed up onto the roof of Cloverhill Prison.
The small group of inmates are understood to have climbed up onto the roof of the building this morning.
It is understood about 10 inmates are at the core of the protest.
Sources said that approximately 60 prisoners gathered in the exercise yard this morning and began protesting, while two inmates managed to climb onto the roof of the complex.
Prisoners in Wheatfield prison were apparently locked into their cells as staff from the facility rushed to aid their colleagues in Cloverhill.
However, they were not forced to intervene and  Cloverhill staff have since regained controlled of the situation.
The standoff is still on-going, but there is no safety risk to any of the prison officers involved at this time.
The were also delays in transporting prisoners from the remand jail to the Courts of Criminal Justice today with many trials, among them murder cases delayed by almost two hours.