Southend Irish star Barry Corr wants to erase Wembley pain
Southend's Irish striker wants play-off win to erase final hurt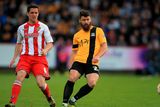 FOR MOST of the Southend United squad, including their seven-strong Irish contingent, a trip to Wembley for tomorrow's promotion playoff final is something new.
Boss Phil Brown - yes, the perma-tanned former manager of Hull - planned to take the panel for a walk around the home of English football today so they could get their bearings at Wembley.
Wicklow lad Barry Corr, the club's top scorer this season, has already been here, and he admits that his last trip to Wembley was anything but a happy occasion. He was dropped from the Southend side, for the Johnstone Paints Cup final two years ago, and the side lost.
"I will always remember that day, for the wrong reasons," says Corr, the much-travelled 30-year-old who will lead the line for the Shrimpers against Wycombe in their bid to get into League One.
"Phil Brown, our manager now, had just come in to the job before the final, I didn't make the starting XI and we lost the final, 2-0 to Crewe.
"He came up to me in the Bobby Moore Suite in Wembley after the game, he said he'd made a big mistake by not starting me but that if it was any consolation I'd start in our next game, against Rochdale the following Wednesday. I think I just said 'Rochdale away, I can't wait, boss," jokes Corr.
"That was a bad day for me and for the club, hopefully this one tomorrow will be better all round. I'd expect to start tomorrow and hopefully we can get the right result and get promoted."
Brown has since seen the the light and started former Leeds United trainee Corr in almost every game, Corr playing a big part in their success of reaching the playoff final this season which has earned the side a crack at Wembley and a possible place in League One.
"It's still a big deal to get to Wembley," Corr told The Herald.
"For the English lads in the squad it's huge as Wembley is their national stadium but for us Irish boys it means a lot to play at Wembley, because you grew up watching all those FA Cup finals there on TV.
"So many Irish lads in England are playing away at the lower levels where we're not in the Champions League or Premier League so getting to Wembley feels nice."
Southend United are tucked away on the south coast of England but in recent times the Irish flag has been very prominent. Five players from this country (Corr, Cian Bolger, Michael Timlin, Gary Deegan and Stephen McLaughlin) are likely to play, with Dubliner Conor Clifford (loaned out to Barnet) also on the books while another Dub, Graham Coughlan, is first team coach.
"We always tell the other players that it's the Irish boys who are the steel, the heart, of the team," laughs Corr. "I know we'll all have a lot of support from our families and friends back home when we go play at Wembley."
Those Irish boys have reached Wembley with Southend the hard way, with a few strong back-stories.
Ex-U21 cap Timlin came through an experience in prison, as he was jailed in 2013 for falsifying records in connection with motoring offences. Former League of Ireland man Deegan has survived a bruising experience while at Coventry City (a joke he made on twitter earned him a club suspension) and Deegan also came though a potentially career-ending injury, a broken jaw which he received while he was in Scotland with Hibs.
"We are all here for different reasons, you have me at this stage of my career and someone like Stephen McLaughlin who is still starting out in his career," Corr says.
"But we are all strong characters and as a group, we all look out for each other, it will do our careers the world if good if we can get a win tomorrow, no matter the level, being a winner at Wembley looks good on the CV."
Corr admits that life in League Two, England's fourth tier, is a life which the spotlight doesn't reach. But there's also a sense of pride about what he had achieved. As an example, in 2002 Corr played international football for the last time, in an U18 international. From that Irish squad, aside from Corr only five players are still involved in competitive football, three in the UK (Willo Flood, Stephen Dawson and Timlin) and two in the LOI (Pat Flynn and David Cassidy).
"You need luck and you also need determination to stay in the game, I know this situation with Southend is a long away away from the Premier League, but it's a good lilfe," he says.
"And I know this club has big ambitions. I think every club is looking at the likes of Bournemouth, where they were a few years ago and where they are now. Winning is a habit, if you keep winning and keep getting promoted who knows where you end up. I have been in League Two with Southend for five years now but I'd love a chance to go up a level and test myself.
"I went to Leeds as a teenager, when we had a huge Irish contingent there. We all dreamed of playing for Leeds in the Premier League and getting caps for Ireland," says Corr.
"But there's a huge drop-out rate and not many players get to keep in the game. I am delighted to still have a career," he added.
Southend v Wycombe, live tomorrow, SKY SPORTS 1 (KO 5.30)
The Irish Shrimpers
Barry Corr
AGE: 30. FROM: Wicklow
Started out at Leeds United when they had a large Irish contingent. After spells with Sheffield Wednesday, Swindon and Exeter he settled in Southend in 2010. Club's top scorer with 14 league goals.
CIAN BOLGER
AGE: 23. FROM: Kildare
He has a good GAA pedigree (dad Declan starred for Dublin in the 1990s), but he stuck to soccer. Was a trainee with Leicester City, had spells with Bristol Rovers, Bolton and Colchester before the move to Southend last year.
MICHAEL TIMLIN
AGE: 30. FROM: London
Capped eight times at U21 level (2005-06) as both parents are from Mayo, Timlin started out at Fulham but he had to leave (for Swindon, in 2008) for his career to take off. Joined Southend in 2011. He spent six weeks in prison (2013) for perverting the course of justice in relation to a speeding offence. "It was a tough time for me but it was my fault that happened," he said.
GARY DEEGAN
AGE: 27. FROM: Dublin
Started out in the LOI with Shelbourne, played for Kilkenny City, Longford Town and Galway United but his career took off at Bohemians in 2008. Lined out for Coventry, Hibs and Northampton, joined Southend last summer.
STEPHEN McLAUGHLIN
AGE: 24. FROM: Donegal
Cut his teeth with Finn Harps but made his name with Derry City, earning a move to Nottingham Forest (2013). Currently on loan to Southend from Forest (his third loan spell), McLaughlin has a year left on his Forest contract. Scored the key goal in semi-final win over Stevenage.