Sink or swim as water is now the key issue on the doorsteps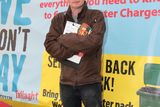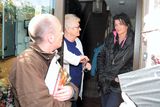 By Niall O'Connor Political Correspondent
SINN Fein has been rocked by a wave of attacks from the Anti-Austerity Alliance (AAA) over the issue of water charges as the Dublin South West by-election enters its most critical phase.
The incoming bills have dominated the election campaign as the government candidates feel the wrath of voters' anger.
A total of 11 candidates will contest Friday's ballot, which is being held to fill the seat vacated by newly-elected Fine Gael MEP Brian Hayes.
But the contest is a clear two-horse race as both Sinn Fein and the AAA tap into huge voter disenchantment.
The AAA's Paul Murphy, who is closely backed by Socialist TD Joe Higgins, has urged voters to risk jail by refusing to pay their water bills.
"We have a lot of weapons to win this battle," he says while canvassing in the Cushlawn estate.
But claims by Mr Murphy that Sinn Fein has changed its position on water charges prompts a furious response from the party's candidate Cathal King.
Mr Murphy says the party is now claiming that it will abolish water charges if it enters government, having previously said it was simply opposed to the charges. The dispute is confusing voters who spoke to the Herald on the campaign trail this week.
But canvassing the nearby working class Killinarden estate with Dublin MEP Lynn Boylan, Mr King accuses Mr Murphy of misleading voters.
"Paul Murphy is not even from this constituency, he has no track record here," he tells one householder.
"The AAA are basically just trying to piggyback on our popularity. Their claim that we have changed our position on water charges is a lie."
The tensions between the two front-runners have surfaced in an election that is almost certain to be won by a non-government candidate.
The highly-damaging cronyism row appears to have impacted on the prospects of Fine Gael senator Cait Keane, who faces the unenviable task of trying to defend the seat.
Senior Fine Gael sources have all but conceded that a win on Friday would represent nothing short of a miracle. Ms Keane is frantically telling voters that the party has a track record of creating jobs and that this trend will continue in the constituency.
Labour too will struggle, though the party's candidate Pamela Kearns is working tirelessly on the ground.
"People know things are getting better. While candidates like Paul (Murphy) and Cathal (King) want to have everyone out on the streets, I want everyone to have jobs," she says.
The Reform Alliance- backed candidate Ronan McMahon has been joined on the canvass trail by high-profile politicians such as Lucinda Creighton and Senator Feargal Quinn.
Mr McMahon was comfortably elected to South Dublin County Council in May after being snubbed by the party he once called his own.
But it is the work of his late father, Larry McMahon, that resonates most with voters.
DEFEAT
"They already remember my father well and what he did locally," Mr McMahon says as he canvasses outside the Firhouse shopping centre.
Another candidate who cannot be discounted from the race is Fianna Fail's John Lahart. Unofficial local surveys show the sitting councillor to be polling in third place behind Mr King and Mr Murphy.
However, Fianna Fail sources say the decision by party leader Micheal Martin to focus mostly on the Roscommon/South Leitrim by-election indicates the expectation of a defeat in Dublin South West.
The constituency reaches from the edges of the Wicklow Mountains to the more middle-class estates of Templeogue and Terenure. But the candidate who garners enough support in the working-class clusters of Tallaght will land this week's by-election contest.
Among the outsiders are Nicky Coules of the People Before Profit Alliance who has organised a voting pact with Mr Murphy.
The Green Party is fielding newly-elected councillor Francis Noel Duffy who is highly thought of by party leader Eamon Ryan and works as an architect.
None of the remaining independent candidates - Tony Rochford, Declan Burke and Colm O'Keeffe - is likely to feature.
Political observers believe the contest is Mr King's to lose. The former Mayor of South Dublin consistently brings up housing issues on the doorsteps and has built up a major local base, securing one of the most impressive local election results in the capital. For Mr King, housing is an issue that has reached crisis proportions for Dublin South West residents.
He says young families have been queuing outside his advice clinic until 10.30pm in order to see him about housing issues.
Friday's by-election looks certain to be a fight between members of the oppositions.
While AAA has made major progress in the areas, seasoned political observers expect Mr King will top the poll on first preferences.
But Paul Murphy's relentless focus on exposing Sinn Fein's apparent stumblings on water charges may yet cause an upset.
hnews@herald.ie