Sign of the times: Painted reminders tell us much about our city's history
HISTORY: Faded reminders painted on Dublin walls tell us much about the history of our city, writes Dermot Bolger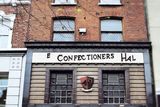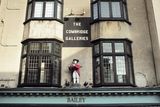 For half a century, two white lines have been painted on a wall in the lane behind the houses where I live.
Time has rendered them almost indistinguishable but I never see them without thinking of my house's first owner, a Mr Scarry.
He died before I was born and all I know about him, courtesy of an elderly neighbour, is that as a compositor working late shifts on a newspaper, he painted those lines in the 1950s.
They were to help him see where two steps lay when he wheeled his bicycle up that lane after work in the dark of night.
Thanks to a fascinating new book by Antonia Hart - illustrated by Lynn Nalty - I know what to call such leftover marks from a vanished world. They are "ghost signs".
If we look properly we would see them all around us on Dublin's walls: names and emblems remaining from when people, long since dead, walked the same streets as us.
Tourists visiting a city have time to look around, but Dubliners crossing the capital are generally too busy hurrying to where we have to be to stop and notice the names of lost businesses carved into stonework.
Or intricate mosaics left over from when our Victorian ancestors bustled around the same streets as we do.
ghost
These ghost signs have simply merged so much into the backdrop of our lives that we adults cease to notice then.
But children staring out from bus windows remain puzzled as to why a magnificent sign for the long vanished shop Confectioners Hall rises above the ugly sign for a Foot Locker outlet in O'Connell Street.
Or why a SuperValu doorway on Aston Quay retains an ornate sign for McBirney & Co with a shamrock motif.
Or why there is a painted statue of a tiny sailor in a three-cornered hat gazing through a brass quadrant above the Bailey pub on Duke Street.
This seafarer has been gazing through his quadrant for two centuries now. Legend has it that this actual wooden midshipman appears in Dickens' novel Dombey & Son, with Dickens inspired by seeing him in Duke Street when visiting Dublin.
Sadly this is a myth because sailors like to get around. This mariner first appeared above a shop in Capel Street in 1810, before he and his owner - the optician, Richard Spears, whose services the quadrant hinted at - moved to College Green and then Duke Street.
Now forlornly eyeing shoppers entering Marks and Spencer, the sailor stands beneath an ornate 19th century sign for The Combridge Galleries: stationers who, in 1899, branched out into selling art "suitable for the hall, the nursery and the billiard room".
Sadly for readers with billiard rooms, only the ghost sign for the gallery still exists, though it traded successfully until 1976 when Brown Thomas annexed its premises.
Brown Thomas also annexed the premises of Switzer's, whose array of plate glass windows stretched for 125 yards along Grafton Street and Wicklow Street.
Each December they were decorated with extraordinary Christmas scenes, containing toy trains, real waterfalls and distorting mirrors. Switzer's is gone but its ornate signage remains above doorways in a green and gold ghost mosaic.
If Brown Thomas has an ambience to echo Switzer's, it is harder to say the same about Foot Locker in O'Connell Street.
Yet the Confectioners Hall which once stood on this O'Connell site also held ingenious Christmas window displays of miniature villages which rivalled Switzer's windows.
Slum dwellers from Europe's worst tenements gazed in the elaborate window displays of this emporium founded by Lemons - the closure of whose sweet factory in Drumcondra was the only bad thing to happen in 1984, despite George Orwell's predictions.
But, as Hart shows in her study of the ghost signs we miss, these leftover reminders are absolutely everywhere.
On Nassau Street look out for a name of the vanished Finn's Hotel, out of which a besotted James Joyce first spotted Nora Barnacle stepping forth like a queen when she worked there as a maid.
If people entering the family Law courts in Temple Bar glance up at the elaborate carvings overhead they realise they are entering the once famous Dolphin Hotel.
spectacular
Likewise the gaudy entrance to the Amusement City arcade on Westmoreland Street diminishes - but cannot totally obscure - the first floor signage for "Fitzgerald & Co Ltd - Wholesale Tea & Wine Merchants 1861-1931", which hints at the spectacular Venetian Gothic-style premises (far left)where the finest of teas were once mixed.
Hart also reveals why the clock over the Stag's Head pub on Dame Court bears the name of Tyson.
Mr Tyson refurbished this pub in 1893, when he could boast that not only had it "the quietest, most select and most comfortable smokeroom" in Dublin, but also the franchise to sell the "AutoStrop Safety Razor", used by the crowned kings of Europe.
I am surprised that the Stag's Head counter was (and remains) made merely of red Connemara Marble with walls of polished mahogany panelling.
Mr Tyson's dray horse, which started off hauling beer barrels around the city, later won the 1903 Gold Cup at Punchestown. With such a Midas touch, it's a wonder that everything he touched in his pub didn't turn to gold.
Tip your hat in his clock on Dame Court and hope that some of his luck rubs off on you, as your eyes learn to take in this hidden history of Dublin above the modern shop fronts.
Ghost Signs of Dublin, by Antonia Hart, is published by History Press Ireland