Sheer delight for 80,000 excited fans as Ed Sheeran wows a packed Croker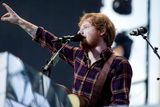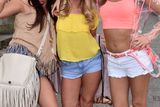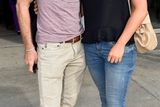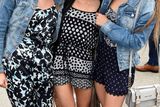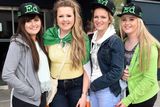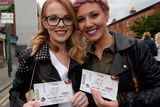 IT'S JUST four years since he burst on to the scene but last night Ed Sheeran wowed more than 80,000 Irish fans at the first of two Dublin gigs.
From the moment the singer (24) walked out on stage, he urged the crowd to their feet.
"I'm going to entertain you," he told the crowd. "We're going to sing a lot and we're going to dance a lot. By the end of the show, we will all have lost our voices."
One of those present in Croke Park last night was former Fade Street star Louise Johnston - who has been romantically linked with the popular singer in reports earlier this month, though Ed later told a London radio station his love life is "non-existent at the moment".
The pair have been friends for years.
Meanwhile, in a surprise for revellers, Dublin rockers Kodaline joined Ed on stage where their sang their hit 'All I Want'.
Excited fans of the red-headed crooner gathered outside the iconic stadium from early yesterday.
Special
Cabra sisters Niamh Donohue (31) and Therese Murray (26) were among the crowds to celebrate a special occasion.
"I came because it's my birthday weekend, I'm turning 27 tomorrow, and he's a fellow ginger," Therese explained.
The Dublin women left their other halves at home for the night as they enjoyed a night at Croker.
Ballyfermot native Natasha Halpin (40) was there with Kelly Lyons (27) and although it was Kelly's birthday, the night was also a big one for Natasha.
"This is the first concert I've been to since Bros and that was about 25 years ago," she explained.
"That night I got to meet them and even got one of their drumsticks, so who knows what might happen with Ed tonight," she said laughing.
Among the crowds of ladies, new dad Alan Egan (26) from Athlone told the Herald that he was taking a break from late-night feeds to see Ed perform.
Karma
"My girlfriend just had a baby and we were supposed to come to the gig together. She wasn't too happy that I'm going along without her but I couldn't miss it."
Many fans had travelled from all over the world to see the English singer perform. Mother-and-daughter duo April Powers and Sklyar Edgcomb travelled from California - despite not having any tickets.
The pair were left dumbfounded when a good Samaritan gave them a free ticket outside the stadium. "It was worth taking the chance, he's one of our favourite artists," April said.
"I think it's karma. I gave a Glen Hansard ticket away to guy a few years ago and now I think I'm being repaid for that."