Sausage filled with rat poison is thrown into back garden for dog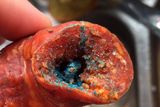 A woman was left in shock after poisoned sausage was thrown into her back garden where her dog was playing.
Lydia O'Byrne described how she happened to step out the back door to call her beloved terrier Freddie in when she noticed he was eating something.
The horrified pet owner picked up a piece of the chorizo sausage - and realised it had been hollowed out and stuffed with rat poison.
"Someone tried to kill our dog Freddie," she said.
"Three large chunks of chorizo sausage were thrown into our garden from the lane behind our house.
"The sausages were hollowed out and stuffed with rat poison.
"I just happened to be going to the back door to call Freddie in when I saw him eating something.
"A piece of the sausage had landed on the patio table. Only for that, I wouldn't have known."
Lydia picked up Freddie and rushed him to the emergency department at the UCD Vet Hospital.
She said rat poison would have resulted in internal bleeding and shut down Freddie's organs.
"The vet confirmed that the piece that Freddie had ingested was enough to give him a pretty grim outlook. We were so lucky that we twigged it after he ate just one piece," Lydia wrote on her Facebook post, which has since been shared thousands of times.
Lydia reported the incident, which occurred in the Dundrum/Goatstown area, to gardai.
She warned pet owners in the area: "Beware. Make sure to scan your gardens.
Bleeding
"If anyone has any information or suspicions please contact me or Dundrum Garda Station."
Lydia said Freddie is recovering at home and "enjoying lots of cuddles".
"Thank you so much to the out-of-hours UCD Vet Hospital, who acted so quickly to save Freddie and thanks to Dundrum gardai, who are a caring group of dog lovers too," she added.
Gardai are investigating the incident.