'Running and gym classes helped me stay trim but didn't improve my shape - so I started weightlifting'
When fitness trainer Louise Heraghty realised she was stuck in a workout rut, she called the 'strong men'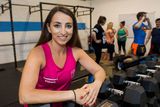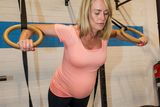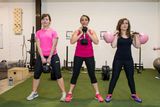 I am lucky enough because I can say that I enjoy exercise. Having spent most of my teens and student days fairly inactive, it was only in my mid to late 20s that I jumped on the fitness wagon and now, in my early 30s, I am pretty passionate about it.
However, I found that while I was devoting many hours a week to the gym or running, I was also stuck in a rut and not seeing any real results physically.
I decided to take a step back to ask myself what exactly I wanted from my training. And, if I was willing to commit so much of my time to exercise, wouldn't it be better to concentrate on what would change my shape and fitness level for the better?
Sure, I am an avid runner and while it keeps me aerobically fit and helps maintain a healthy weight - not to mention the mental health benefits, I have accepted that running doesn't have a huge affect on my body shape.
In addition to running, I was, for a number of years, a member of a 'luxury' gym on Dublin's northside and although I did avail of the facilities, I felt I was bored doing the same aerobics and body conditioning classes.
There was some resistance training in the form of kettlebells and body-pump classes, but I have to admit, I wasn't really challenging myself.
So, I decided it was time to make a change and I ditched the luxury gym and signed up to train with Compound Fitness in Dublin and do some real strength training! The gym is located in Port Tunnel Business Park, Clonsaugh, Dublin 17. It's no fuss, but has great weights equipment and is run by two very experienced trainers, Oisín Mc Cabe and Kevin Mc Dermott.
Before I started, I needed to know what I was getting into and what I would be doing on my new 'strength training' journey.
Oisin told me that 'firstly, it's important to differentiate between strength training and very light weight training (ie weighted aerobics). The public is mislead by fads, not evidence.
People have been getting in incredible shape for a long time, but a large portion of the fitness industry will try to convince you that their way is best.
bikini
We know what works, it's not a mystery. Victoria's Secrets models strength train, celebrity trainers use strength training with stars to produce results for film roles and your favourite celeb bikini body was more than likely created through a smart strength-training programme.
So I signed up to my new programme - no Zumba class, 50-metre pool or 'ladies who lunch' in sight. What I did get was top-quality strength training with guys who know their stuff.
Many women are intimidated at the thoughts of lifting weights and many are misled by what they have heard.
Oisin says "the misconception that weights make you bulky or that weight training is a male-dominated activity is widespread, and this comes from big commercial gyms or hardcore advertising for supplements etc".
"Weight training is the single best thing a woman can do physically to transform her dream body into a reality," he says.
The women who train in Compound range from early 20s to late 40s, but what I quickly realised is that it is an ageless, sexless environment and more a supportive community between members, regardless of age, sex or specific goals.
Training alongside the men definitely helps too, but only because while I thought certain exercises can only be achieved by men, I discovered that pull-ups, push-ups and many other goals are well within my grasp.
Many of the girls have achieved their first pull-up (I'm not quite there yet).
One of those women is Marie Devine a mum-of-three who has been training in Compound since last August. She had never done any weights before just TRX and bootcamp classes.
"They all helped in their own way," says Marie "but I just wanted to try weights. It took me a good three months to get into it. Now I absolutely love it, my body has changed, my arms have definition. Tum, bum and legs are just what I want."
And it's not just in the gym that Marie is smashing her goals, she was the third woman home in the torturous Hell and Back obstacle course in June - and was the first woman to cross the line last year.
"I'm 40 in January and I'm in the best shape of my life. You can switch off when you're training and just do your thing. I also love the great camaraderie," she says.
A typical session would depend on which body part you are training.
Monday is upper body- shoulder press, tricep extensions, bicep curls etc.
Tuesday is a Strongman Session - focusing on movements that are fun, like lifts, carries, swings, pulls and pushes - anything that's a little break from the norm but still safe and effective.
Wednesday is usually leg training - squats, lunges, deadlifts, hamstring curls - increasing the weight you lift on each exercise as you get stronger.
Of course, I experienced the dreaded 'DOMS'(delayed onset muscle soreness) particularly after my first few sessions, but there is something almost gratifying about not being able to walk up the stairs properly or hold a hairdryer after training.
It's important also to recover so that's generally what I do on a Thursday. On Friday, body conditioning could be anything from core work to burpees to pushing a weighted sled up and down the gym.
On Saturday, there's another Strongman session - and a well-deserved rest on a Sunday. A minimum of three sessions a week is recommended though to see results.
Diet
No matter what type of training you do, there is nothing more important than diet, so if you're squatting 40kg weight and eating 1kg of chocolate afterwards, you can forget about achieving visible results.
Let's be honest, not many of us can stick to clean eating 100pc of the time, but what I've learned is that making some small simple changes and sticking to them most of the time helps achieve results.
The main benefit of strength training for women is the extra calorie burn, metabolism boost (for a much longer period of time versus what you can expect from your more traditional aerobic exercise).
You can also look forward to increased strength, confidence and enjoyment from achieving goals week in, week out versus old-school aerobic approaches.
Weight loss/gain
Most women are obsessed with what they weigh and I admit that I was one of them. However, I have now taken the focus off the scales and onto measurements.
At around 60kg (9st 4lbs) and 5ft 4, it's unlikely that I'll lose much weight. In fact, there's a chance I could gain weight, but it's in the inches around my waist, hip and bum that I can see reductions (increasing lean muscle mass but losing body fat). With strength training, it's all about how you fit into that favourite dress or pair of jeans - not what you weigh.
I definitely don't regret my decision to ditch the luxury gym and start strength training. Big gyms sometimes have no sense of real communication.
Kevin Mc Dermott from Compund advises: "Find a gym that has members and trainers who want to see you succeed. Focus on small goals that will lead you to success. Sit down with a trainer and make a real plan that you can be accountable for.
"If you would like our assistance or need help finding a gym locally, our team can recommend colleagues all over Ireland so contact us at info@compoundfitness.ie."
Weightlifting in pregnancy
Caoimhe Ryan, who is due to give birth to her first baby soon, has been strength training four times a week for a year leading up to and right throughout her pregnancy.
Some people are shocked at the idea of a heavily pregnant woman weightlifting, but it's absolutely fine and very beneficial for recovery and delivery.
Caoimhe said: "Being quite a sporty person before pregnancy, I always imagined that I'd endeavour to keep fit, not just for me but for my baby.
Fortunately, aside from tiredness, I have felt pretty good most of the time with little sickness.
"During pregnancy, your body changes dramatically. You expand quite a bit, you feel heavier, your balance isn't great and, of course, there's the bloating! It's hard to feel like yourself, so for me, continuing to take part in the group training allowed me to feel normal.
0"It took my mind off the not so glamourous side of being pregnant and at the same time, I was still able to experience a great deal of that feel good factor that training gives you.
"From the beginning of my pregnancy the focus was on maintaining my strength, which would in turn make it easier for me to return to training post baby. I'd heard that training throughout your pregnancy can help with the labour itself, only time will tell if this is the case for me.
Of course, there are modifications for women training during pregnancy (for example, you can't lie on your back or front, so many of the lifts are done on an incline bench), but once there's expert supervision and with your doctor's clearance, you can continue normal training with lighter weights.