Rugby star Andrew Trimble 'excited' about becoming a dad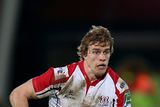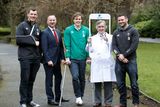 rugby star Andrew Trimble has revealed he's looking forward to swapping rugby balls for dirty nappies as he is set to become a dad.
The winger (30) shared the happy news that his doctor wife, Anna, is pregnant with the couple's first child and is due to give birth this summer.
Speaking at the launch of Aviva Health's smartphone GP consultation service, Babylon, Trimble said they have decided to wait until the baby is born to find out the sex.
"We're due our baby on July 4," he told the Herald yesterday. "We're looking forward to it and we're keeping the sex of the baby a surprise.
"We're pretty excited now. At the start you're going, 'This is the most amazing thing ever', and then you get used to it all of a sudden.
injury
"It will be really exciting again towards the end of the pregnancy."
The Ulster player, who will miss this season due to injury, said that being away from the Irish camp meant he hadn't heard that teammate Gordon D'Arcy and his model wife Aoife Cogan are also expecting a child this summer.
"I didn't know, because when you're not in the camp you don't really know what's going on," he said.
"I keep in touch with a few of the guys every now and then, but because I'm not in camp you don't know as much. I'm out of the loop."
hnews@herald.ie
LAUNCH: Andrew Trimble and Dr Barra O'Tuama at the Aviva Babylon launch. Inset, Gordon D'Arcy