RTE reporter Perry can't wait to get started in dream Washington post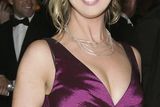 Dubliner Caitriona Perry has told how she can't wait to get started after landing her dream job as RTE's new Washington correspondent.
Over the coming weeks, she will be packing up lock, stock and barrel and relocating to the US.
The 33-year-old who is originally from Knocklyon in Dublin had been out for a run with her husband when the call came through that she had got the job.
"I am absolutely over the moon. It is just fantastic. It has been my dream since I was a teenager to to be a foreign correspondent," she said.
PRESTIGIOUS
The US is a country she is familiar with, as the reporter spent some time studying as a student in Boston.
She said that she is looking forward to taking up the position. "It is such a vast country and familiar to us in many ways, but there is so much we don't know and so many different stories to tell," she said.
Caitriona will be covering US politics in Washington DC where RTE has an office. But she also wants to travel and and hear stories from all different walks of life in her new role. "In terms of New Jersey, there are 61,000 people still not in their homes after Storm Sandy a year later, some of whom have an Irish heritage," she said.
In addition, for the next year, the anniversary of the Boston marathon will be approaching, she said.
The prestigious Washington correspondent post was advertised as a two-year term, with a two-year extension on offer. "I can't wait to get started," Caitriona told the Herald. She will be taking up the post in the coming weeks.
The correspondent has worked as a journalist in RTE since 2007, reporting across television and radio news including the Six One and Nine O'Clock news programmes, Morning Ireland, the News at One, Drivetime and other RTE programmes.
She was awarded the National Justice Media Award in 2012 for Best TV News for her coverage of the government's handling of St Patrick's Institution for juvenile offenders.
As part of her journalism degree at Dublin City University, she spent five months at Boston University. She began her career at Newstalk and then moved to Today FM where she worked as the courts correspondent and acting deputy head of news before joining RTE.
fdillon@herald.ie