Rough sleeper 'paralysed in leg' after lorry claw removed his tent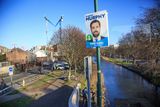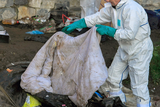 A homeless man suffered life-changing injuries when the tent he was sleeping in was removed by an industrial vehicle during a clean-up operation in Dublin.
It is understood the tent was lifted by a grab lorry at the Wilton Terrace and Leeson Street junction along the Grand Canal on Tuesday afternoon.
Witnesses heard screaming and alerted the workmen.
The man - who is in his 30s - was yesterday moved to intensive care at St Vincent's University Hospital, where he remains in a serious but stable condition after emergency surgery.
It is believed he may have been paralysed in his left leg, a source said last night.
The incident happened when Waterways Ireland was removing tents in the area.
Inner City Helping Homeless chief executive Anthony Flynn demanded a full investigation, saying "answers need to be provided".
"Somebody's life could have been taken," he told the Herald.
"Eviction notices were being issued to people living in tents along the canal, which is absolutely ludicrous.
"Appropriate checks clearly weren't put in place to make sure someone wasn't in the tent."
Dublin City Council said Waterways Ireland was removing tents that were placed in a "precarious and dangerous location".
"The Dublin Regional Homeless Executive is liaising with the hospital and every support is being provided. Our thoughts are with the man at this time," a spokesperson said.
Saddened
"The executive has been engaging with the individual for some time and accommodation remains available to him."
Housing Minister Eoghan Murphy said his election campaign poster, which was photographed at the scene, had since been removed.
"I was saddened to hear of the incident," he said.
"My thoughts are with this poor man. I've demanded a full report into the incident which is under garda investigation.
"My campaign poster which was located at the scene has been removed."
Waterways Ireland said it is co-operating fully with the garda investigation.
"Waterways Ireland and Dublin City Council/Dublin Regional Homeless Executive work in co-operation to remove tents along the canals in Dublin where they have become a public safety hazard," a spokesperson said.
"Our thoughts are very much with the individual who was injured."