Ronan and Storm join A-listers for Burberry catwalk show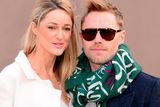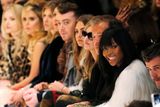 Crooner Ronan Keating and his other half Storm Uechtritz (left) were among the A-list star guests at London Fashion Weeks' Burberry catwalk show.
Actress Maggie Gyllenhaal, photographer Mario Testino, multi-Grammy-winning singer Sam Smith and models Kate Moss and Jourdan Dunn also attended the show in Kensington Gardens yesterday.
Naomi Campbell arrived half way through the show and asked her fellow "FROW-ers" to squeeze along so she could take a seat.
Christopher Bailey's latest collection was filled with fringing, ponchos, patchwork and suede.
The whole collection seemed to channel Stevie Nicks 1970s glam.
While most of the style squad focused on the clothes Storm seemed more captivated by the depth of her and Ronan's relationship.
"Why is it that we always have so much fun?" she asked after the show. "Such a great day like every other day we spend together. Thank you Love."
Keating is currently starring as busker Guy in the West End staging of the musical Once.
According to John Carney - who directed the Oscar winning film - Keating is doing a fantastic job and has bolstered tickets sales.
"He is wonderful and has given the show a real boost," he said.
Performing night after night is a tough slog but Keating says Storm makes life easier by gifting him chocolate.
"She's a chocoholic and I seem to have developed rather a sweet tooth as well since I met her," Ronan explained.
"She comes to see the show and makes sure this jar is stocked with all sorts of chocolate. I'll dip in during the interval when I'm tired and low and need a sugar rush to get me through the second half."
hnews@herald.ie